South Sudan's vice President Dr. Machar, wife tested positive of COVID 19
By Deng Machol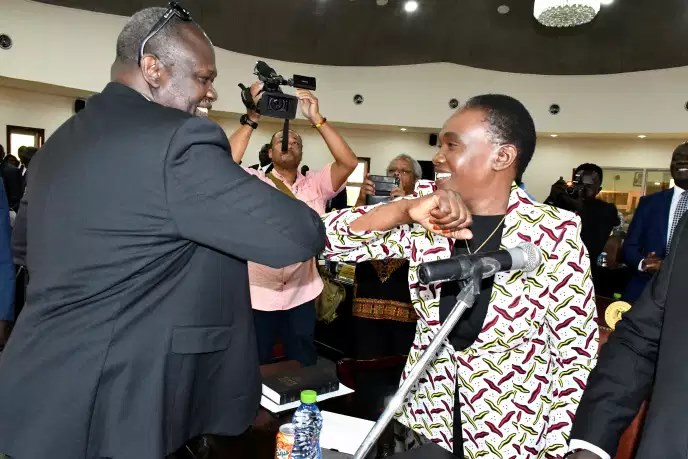 Juba – South Sudan's First Vice President Riek Machar Teny and his wife, Minister of Defense Angelina Teny, have tested positive for COVID-19, the disease caused by the coronavirus.
However, the Ministry of Health said Dr. Machar and Angelina, including other government officials were tested on Wednesday last week.
Dr. Makur Koriom, the Undersecretary in the Ministry of Health said the First Vice President and his wife have not shown signs or symptoms for the disease.
"Both are in good health, they have no symptoms, they are in high spirit," Dr. Makur affirmed.
He said Dr. Machar, Angelina, their bodyguards and family members who recently came into contact with them will self-quarantine for 14 days.
"Among the 57 cases confirmed positive for COVID-19 is his Excellency Dr. Riek Machar Teny, and madam Angelina Teny, the Minister for Defense…they will go into quarantine at their official residence in Juba for the next 14 days," he added.
Speaking on the state – based television on Monday's evening, Dr. Riek Machar confirmed that him and his wife, Angelina Teny have both contracted the virus.
"I want to declare that, I, the deputy chair of the high-level task force has been tested [For COVID-19] and found positive. There are other members who are also tested and found positive. I can only say at this stage that Madam Angelina Teny, the minister of defense and veteran affairs is also found positive," Machar announced in a televised address to the nation.
Machar, until last week, was the deputy chairman of the country's high-level task force for COVID-19, while his wife was also a member of the COVID-19 team.
Machar and his wife are the first senior government officials in South Sudan who tested positive for COVID-19 and have come out to speak about their test results.
Dr. Makur Koriom stated that medical doctors will continue to monitor Dr. Riek Machar, Angelina Teny and those who have self-quarantined.
"Our doctors will conduct follow up tests after a couple of weeks, and if afterwards the tests return normal, they will then be discharged."
South Sudan has 347 positive cases of COVID-19 with four recoveries and six deaths related to corona-virus pandemic.
Analyst described that it is "frightening situation" as the disease has already spread to the country.
According to him, South Sudan is in a battle it cannot afford to loose.