Menstrual Hygiene Day: Taboos and traditions a hindrance to menstrual hygiene management in Ghana.
By Ahedor Jessica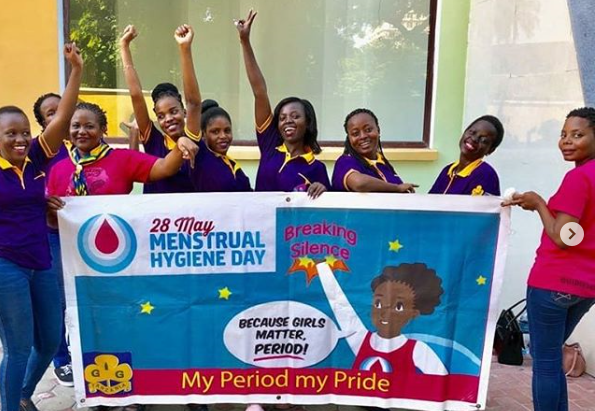 Ethnic groups in Ghana, like many other African countries, have diverse opinions and thoughts about menstruation. While the natural phenomenon is seen as unclean in some clans' others also believe that menstrual blood can be used to invoke supernatural forces or bad omen.
In a typical traditional home in Ghana, women and adolescent girls have to leave their homes to sleep in relative house during their menses.  Girls raised in Muslim homes have to stay away from attending the five daily prayers while menstruating. Some Christian sects' bar women from entering their chapels when they are menstruating.
United Nations Children's Fund, UNIEF 2016 research on menstrual hygiene management in Ghana, stated that traditions and taboos surrounding menstruation have proven to be one of the major challenges the sector players are fraught with. Especially in homes where traditional religions are based on animist beliefs and tribal Gods, girls are not allowed to cook for the family when they are menstruating. In extreme cases, menstruating females are even forbidden from touching household wares such as buckets, cutlery or plates and bowls.
This situation does not differ from what Faith Adzorke who lives with the parents at Amaoaman, in the Ga West Municipality of Greater Accra Region has to endure every month. The 20-year-old couldn't explain why she has to always move to her maternal side whenever she is about to start her menses. "Ever since I started menstruating at age 11, I have been shuffling between my grand mum's place and that of my parent's. My father believes I am unclean when it is 'that time of the month'. I have to move to my maternal home and only return after my menses".
Traditionalist, Osofo Yaw believes there is a spiritual connotation to mensuration and can even been traced to the bible. To him the phenomenon has the potency of neutralizing any form of charm meant to serve as a protection for an individual or a household. Sometimes, materials used in ensuring menstrual hygiene once soaked with blood if not properly disposed of can be use as charms against the women and for ritual purposes, he explained.
But a consultant, physician specialist Koma Jehu-Appiah asserts there is the need to distinguish between culture, religion and natural phenomenon that are a part of womanhood. He believes some people gets intoxicated with culture and religion as a result, it impairs education regarding issues that affects human health. "Menstruation is physiological feature that distinguishes women from men". Cultural and religious restrictions remained the norm of African most societies contributing to the myth around the subject matter but the only way to breakthrough is education; he added.
Ellen Gyekye, the Head of school Health and Education program (SHEP) at the Ghana Education Service called for continuous support for capacity development of SHEP structures at the school level by promoting and collaborating effectively to imbibe in the younger generation menstrual hygiene habits. She added that community sensitization is key to the success of eliminating stereotypes about the natural happening.
Touching on UNICEF's recommendation report on menstrual hygiene management (MHM) to the government, she maintained MHM be made part of the everyday conversation between teachers and adolescent girls. She is optimistic the new curriculum will rob- in the various policy recommendations made by the sector players on equitable school health policies that favor MHM.