COVID-19: Traumatized Cameroonians Stranded in Kuwait Plead to be brought back home
By Boris Esono Nwenfor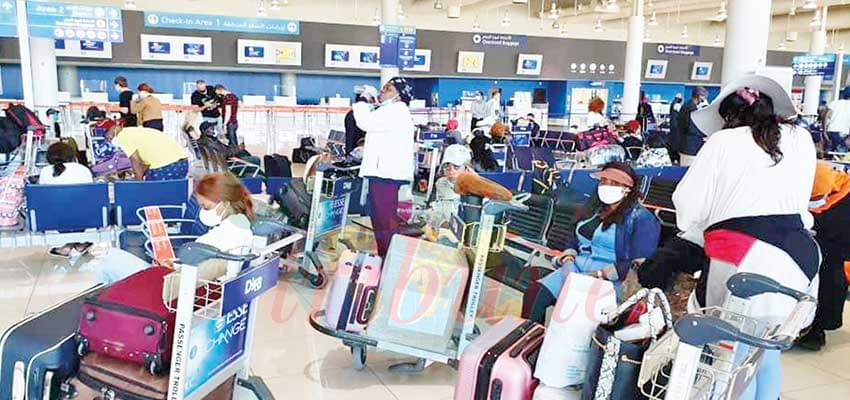 Cameroonians stranded in Kuwait, a country in western Asia, situated in the Northern edge of Eastern Arabia at the tip of the Persia Gulf, have called on their government to look into their plight and repatriate them back home as the number of coronavirus in Kuwait continues to soar.
A video circulated on Facebook shows the poor living condition in which some Cameroonians living in Kuwait are going through. In the video, though the location of the Cameroonians cannot be ascertained by this reporter, as many as 11 women can be seen in a room (looks like a hospital with beds), with some on the floor.
Since the first case of the Coronavirus pandemic was first announced in Kuwait on 24 February 2020, the country as at May 24 had 21,302 confirmed cases of COVID-19 with the recovery of 6,117 cases and 156 deaths.
The Kuwait government has launched a repatriation exercise according to one of the stranded Cameroonians in Kuwait, speaking in a recorded video on Facebook. They (Cameroonians) have been allowed to go back to their homeland and other countries have repatriated their nationals from Kuwait. This largess that has been offered to the Cameroonians has been in place for the past one month now. "We are tired of waiting," one of the stranded Cameroonians cried out loud.
The Cameroonians have asked immigration police in Kuwait why they can't leave the country and what they have been told is that their government (Cameroon) has not given the green light for them to live.
Members of Cameroon, government officials, (President) Paul Biya, why are we still lagging in Kuwait," the stranded Cameroonians in Kuwait questioned.
"We plead for return as no father will want to leave their children out of the house. Kuwait has granted us repatriation and the Cameroon government should evacuate from Kuwait."
"We are pleading!!! "Papa Paul Biya we are pleading, help us!! "We di beg you!!! "No, abandon your pikin them!!! "We want to return!!! Many could be heard crying.
Since Cameroon closed its borders to the outside world on March 18, 2020, due to the coronavirus pandemic, two exercises have been organized by the government to bring its citizens residing out of the country back home.
Within the framework to repatriate Cameroonians blocked abroad, on May 9, 139 Cameroonians who were stranded in Dubai, in the United Arab Emirates were brought home onboard an Ethiopian airline flight, according to the country's Ministry of External Relations.
From May 8-11, Cameroonians stranded in various parts of the world such as Toronto, Washington, Paris, Dakar, Tunisia, Libreville were flown back to the country.
Over 1,200 Cameroonians have been repatriated back to the country through negotiations with countries that have exceptional landing rights with 626 Cameroonians earmarked to be repatriated within this current repatriation programme, the country's national broadcaster reported.