Burundi to hold elections in self isolation
By Maniraguha Ferdinand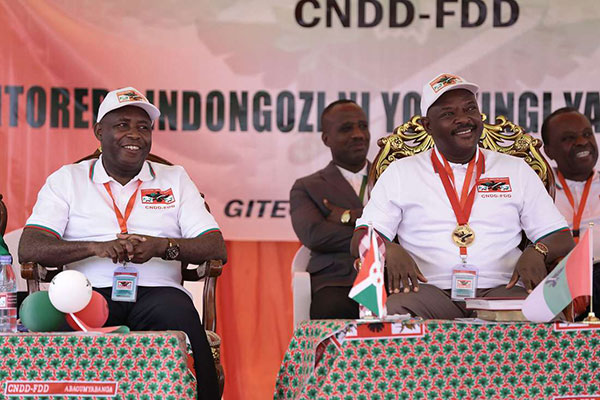 On 20th May, millions of Burundians will get up early to choose a new president who will replace Pierre Nkurunziza, a controversial man who has been at the helm of the country for fifteen years.
It will be a relief to more than 400 000 refugees scattered all over east Africa, who have been fearing to return home since 2015.
In 2015 Nkurunziza won a controversial third term that followed by a failed military coup that created instability in the tiny east African nation, and forced thousands to flee their country.
Major Generanl Evariste Ndayishimiye of the ruling party, CNDD FDD is the favored candidate to win 2020 elections, a gesture many see as an attempt to bring back Burundi to the international scene.
During Nkurunziza last tenure, Burundi'relations with many international organisations worsened and European union took sanctions to some Burundians politicians that are alleged to be at the core of 2015 chaos.
Though Ndayishimiye has been loyal to Nkurunziza, some Burundians believe that he can change things, due to his role in trying to unite his government with dissidents abroad, his charismatic character and the way he masters matters relating to security.
Isolated elections
Burundi is going to hold elections during the time when the world is fighting covid-19 pandemic. As of 13th day of May, Burundi has recorded 15 Covid-19 cases.
While some countries around the world has taken strict measures to curb the virus including banning events that attract many people, electoral rallies have been held in Burundi since 27 April and have drawn thousands from across the country.
Observers fear that those gathering could stir the number of cases to be infected with the virus, though local leaders assure that nothing bad will happen.
Burundi's electoral commission in mid –April announced that no elections will be held by Burundian diaspora due to Covid-19. Electoral body said that bringing electoral materials to foreign sites would be impossible as many international flights have been cancelled.
Recently, Belgians lawmakers have criticized the Burundi's decision to stop elections in diaspora, saying that such move deprived many citizens their rights to vote.
Séverine de Laveleye and Els Van Hoof, both Belgian MPs wrote to Burundian ambassador in Brussels requesting him to reconsider the decision and allow Burundians living in Belgium to attend general elections. It is likely that their request will be futile as few days are left to hold elections.
On 8th May 2020, Burundian Ministry of Foreign Affairs notified East African Community that its observers will have to be quarantined 14 days before they proceed to observe elections.
This means the election observers will not be able to follow up the electoral process because the quarantine period will end two days after the elections are held.
This move also was criticized by many as it aims at excluding any external observer from following up Burundi's general elections.
Campaigns period in Burundi was marred by intimidation experienced mainly by opposition. On 8th May, the main opposition party CNL has reported that 200 of its supporters were imprisoned in two weeks after campaigns were launched.
Agathon Rwasa, CNL flag bearer and Vice President of house of representative is seen as main rival to CNDD-FDD's Ndayishimiye.
CNL speaker Térence Manirambona said that two CNL supporters were killed while two others disappeared recently, and accused government security agencies to do nothing about those cases.