Sierra Leone: MOHJAM partnership, Mohamed Alie Foundation donate veronica buckets to the Blackhall Road community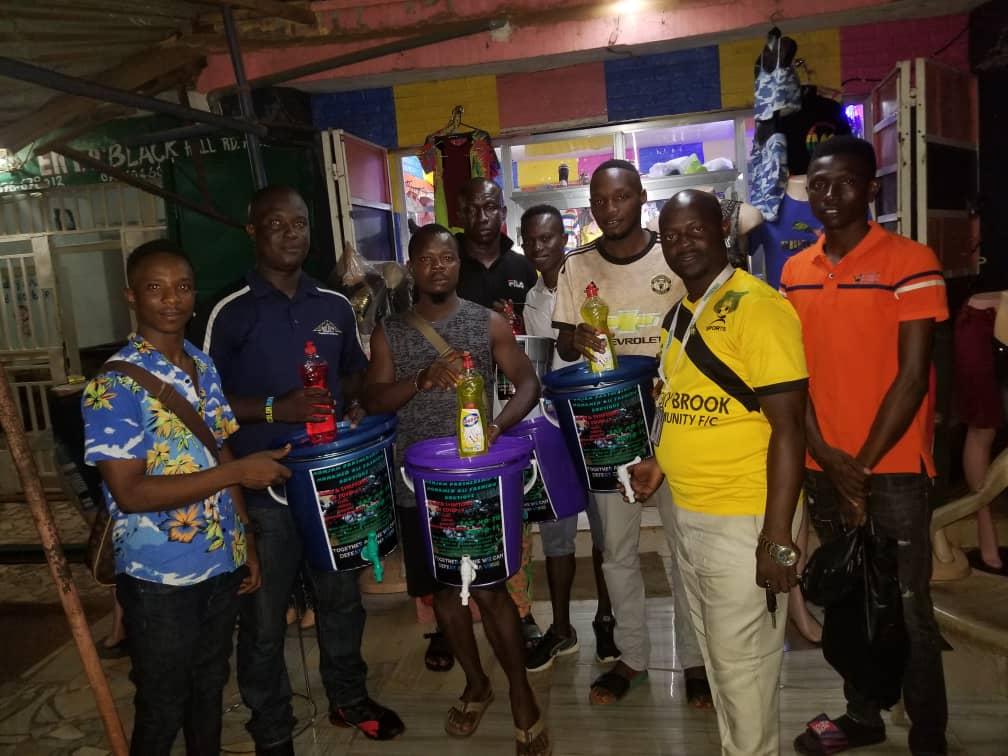 By Ishmael Sallieu Koroma
As a way of complementing  government's effort towards the fight against  Covid-19 virus in the country , a community-based organization within the Blackhall road community formed by two young entrepreneurs, Abdul Hiye Koroma and  Mohamed Alie Kamara called MOHJAM Partnership and the Mohamed Alie Fashion Boutique Children's Foundation has donated veronica buckets with shampoos to the  Black Hall Road Community in the East of Freetown.
The donation which was made to Honourable Muniru Lansana of Constituency 121 and Councillor Musa Alimamy Sesay of ward 421 on behalf of the people of the Blackhall Road community was part of the organisations contribution to their community in the fight against Covid-19 Virus.
Receiving the buckets on behalf of his people , Honourable Muniru Lansana, Commended the kind gesture of the foundation and promised to deliver the buckets and shampoos to the designated areas aadding that he would ensure they are well monitored and used accordingly.
In his statement , Councillor Musa Alimamy Sesay, upon receiving the buckets, expressed gratitude to the management of the foundation for such a gesture especially at the midst of the COVID-19 outbreak.
Chief Executive Officer of the Foundation , Abdul Hiye Koroma , urge the Councillor Musa Alimamy Sesay of ward 421 to including children in his sensitization of the outbreak as children with the hill side spent most times outdoor either playing or out to fetch water. He added that children should be encouraged by their parents and wards to be washing their hands regularly.
Co- CEO of the foundation, Mr. Mohamed Alie Kamara, on behalf of the foundation appreciated Honourable Lansana and Councillor Musa for honouring their invitation and entreated them to monitor the buckets and to continue to sensitize their people about the preventive precautions from the Ministry of Health and Sanitation.
He went on to entreat the Honourable and Councillor to continue to sensitive their people about this deadly outbreak adding that frequent hand washing and social distancing will help prevent the diseases not to spread.
Chairlady of Duwala Community, Zainab Kamara commended the gesture from the foundation stating that the gesture of the foundation was not a surprise to her as the foundation has been undertaking many activities within the community especially in aiding less privileged children.
On his part , Secretary General of the Foundation Morlai Sankoh, promised the Honourable and Councillor that the foundation will provide volunteers to assist in monitoring the Veronica buckets as well as to continuing the sensitization process of the need for hand washing as it one of the preventive measures for the deadly virus. The Foundation whose mandate is to provide social assistance to less privileged children within the Blackhall Road communityy has eight children in its welfare and education scholarship whom they have been supporting for two years now.