COVID-19:Are destitute Kenyans sharing masks?
By Samuel Ouma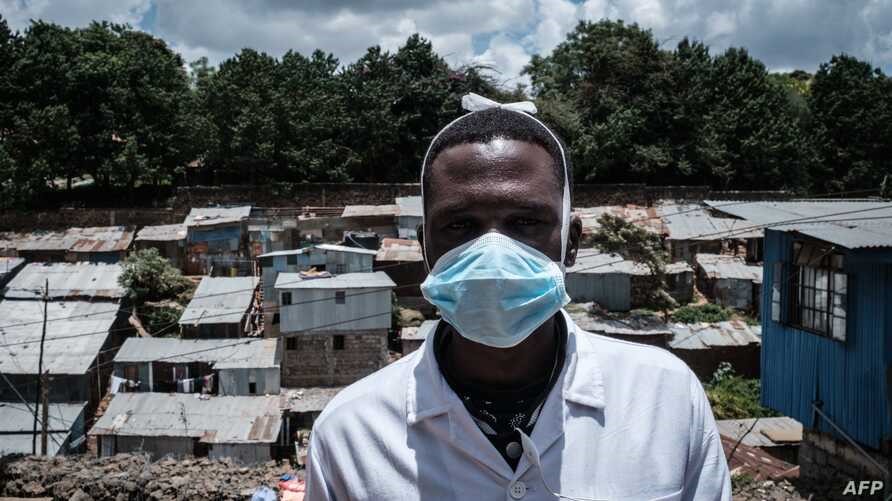 After confirming the first case of the novel coronavirus on March 13, Kenya has been grappling to curb the spread of the dangerous disease which has brought the entire world to a standstill. So far, over a million cases and more than a hundred thousand casualties have been confirmed.
The East African country has reported above one hundred cases and 8 deaths and the government have put in place stringent measures in the fight against the new virus. The latest safety precaution is mandatory wearing of masks. Kenyans have been ordered to put on masks in public places where social distancing is a little bit hard.
Some of the public places are market places, supermarkets, banks and while travelling using public means of transport.
"This is a new requirement that must be complied. People must wear masks in public places," said the country's health minister Mutahi Kagwe.
"Having received advice from our medical professionals and experts, today we do say that Kenyans should wear masks while in public places. I know that there will be thousands of tailors from all over the country who will also look to make these masks and we encourage them to do so.
"The ministry of Health, Ministry of Industrialization and Trade will endeavour to ensure that all these tailors are provided with the right information through the National Government Administrative Officers (Ngao)on the kind of materials required and the proper method of piecing the fabrics together to make the face masks and to ensure that they are effective," said President Uhuru Kenyatta.
Hefty penalties await those found defying the new directive. Anybody who fails to fear masks in public is fined $200 or a six months imprisonment or both. The penalties are also applicable to those who violate one metre social distancing and hand sanitization rules.
Those who live in areas under cessation movement are not exempted. Movement in and out Nairobi Metropolitan Areas and coastal counties of Kwale, Kilfi and Mombasa were banned. The areas have recorded the highest number of infections.
"A person who commits an offense under these Rules shall on conviction be liable to a fine not exceeding Ksh. 20,000 or to imprisonment for a period not exceeding six months or both," reads the notice published in the local dailies.
Supermarkets were ordered not to serve customers without face mask.
"We have health officers on the ground and if we get reports of supermarkets serving customers that are not in masks, we will not hesitate to close them," said Kagwe.
To avoid being on the wrong side of the law, a section of needy Kenyans are now sharing masks. Some borrow from their neighbours when they have to go to public places. In some residential places, one face mask is shared among ten people. This is very dangerous since the disease can easily be transmitted from one person to another.
"We know covid-19 is deadly and we try as much as we can to adhere to the directives instituted by the government. But with few coins we prefer buying maize floor to mask. Even you or others cannot wear masks when you are hungry," noted one of them who sought the anonymity.
Another one added, "My family cannot afford the mask. Our friends and neighbours are good people, they help when one of us wants to go to market."
Others have also been reported to be using bras or handkerchief as face masks due to high prices of the protective gears.
"Those selling those masks locally are doing so at a very high cost and we can't afford it. If a bra can serve the same purpose, why not use it? As a mother, I am doing everything I can to keep my family safe and will do anything to achieve that," a mother posed.
The cost of masks sold in Kenyan streets ranges from Ksh.50 to Ksh.150, prices which majority cannot afford given the economic challenges that are bedeviling the African country. A number of Kenyans are staring at uncertain future after several companies and businesses close down.
"I do not have a problem in getting the mask. But it is expensive to acquire. One goes at Ksh 100, which is for my supper. I cannot sleep hungry and buy a mask," added an irate Kenyan.
Even after disclosing that its local companies had started manufacturing face masks, the Kenyan government is yet to supply its citizens with masks. Many people still walk without masks.