South Sudan Suspends Flights, Ban Public Events over Looming COVID – 19
By Deng Machol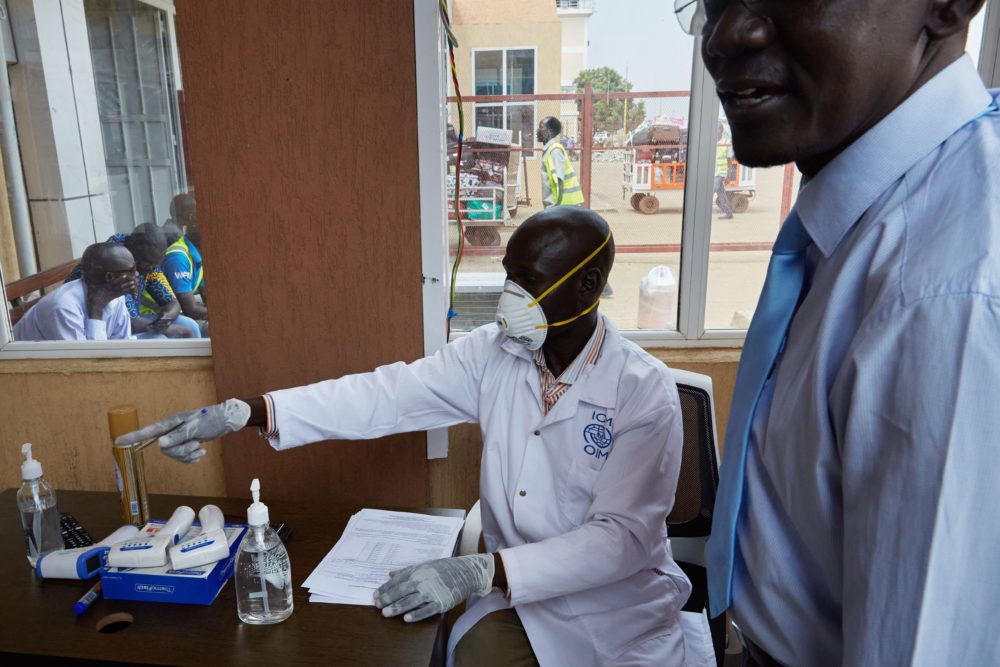 Juba – South Sudan's government has suspended direct flights to countries affected by the novel coronavirus (Covid-19), including ban public events within the country due to the looming threat of coronavirus, effective this month.
South Sudan has no case of the coronavirus but neighboring Kenya, Sudan and Ethiopia, have all reported coronavirus cases.
President Salva Kiir said in a statement in Juba today that the government had suspended all public gatherings, sporting events, religious meetings and political events.
"I have ordered self-quarantine of all senior government officials who have just arrived from countries with established local infection and transmission of COVID-19," said president Kiir. We have directed security and law enforcement agencies to support the ministry of health in enforcing isolation, self-quarantine, removing COVID – 19 suspects and relocating them to isolation centers."
Kiir said 'prevention is better curse' as the war-torn country lagged behind in term of health standards, facilities and capacities to face the COVID – 19.
According to Kiir, non-essential travels to affected countries must be called off or postponed to a later date.
"We have ordered restrictions on movement of people, including decline to issue new visas, revoking visas and residence permits, and denial of admission as ports of entry," said Kiir.
The reported coronavirus cases in sub-Saharan Africa have mainly been in foreigners or locals who had travelled abroad, but concerns are growing about the continent's ability to handle a potential rapid spread of the virus.
Last week, Dr. Makur Matur, the undersecretary of the ministry of health, said that the country was "under a high risk of importation of Covid-19 from the affected countries".
"In light to the current transmission of the disease, the government of South Sudan is temporarily suspending flights between South Sudan and affected countries,'' Dr. Matur told journalists in Juba on Friday.
The latest decision includes Egypt, Tunisia, Algeria, Togo, Middle East, US, Canada, Brazil, Chile, Ecuador, Costa Rica, Peru, Paraguay some countries in Europe.
In Asia, China, Korea, Japan, Singapore, Malaysia, Australia, Philippines, Viet Nam, New Zealand, Cambodia, India have been listed. Others are Thailand, Indonesia, Maldives and Bangladesh.
Dr. Matur further added that its embassies in countries hardest-hit by the virus had been advised to impose visa restrictions.
President Kiir said caution must be exercised to reduce and avoid crowding at place of work, adding that workers sharing an office space must ensure they are seated at least one meter apart.
All international conferences slated to take place in South Sudan have temporarily been postponed due to the looming threat of COVID – 19.
South Sudanese leader says travellers arriving in South Sudan from affected countries and areas with established local transmission will be self-quarantined for 14 days.
However, the restrictions may include directing South Sudan's embassies accredited to the affected countries, not to issue new entry visas, revoke visas or deny admission at the ports of entry.
South Sudan, country blighted by several civil wars, become an independence nation in 2011 from Sudan and descended into another civil war in 2013.
After the six year of conflict, the country is now implementing the 2018 peace deal, as new presidency and cabinets were sworn in of office.
At moment, passengers' arriving the country through Juba International Airport and other points of the entry are being screened for the detection of Covid-19.
As a precaution, president Kiir encouraged non-physical contact but says that citizens could opt for elbow and foot bumps as greetings if they have to make physical contact rather than hand-shaking.
More so, the hand washing and self-distance are advisable to the citizens in order to avoid contract the deadly disease.