S Sudan bans international flights, mass gatherings over the fears of COVID – 19
By Deng Machol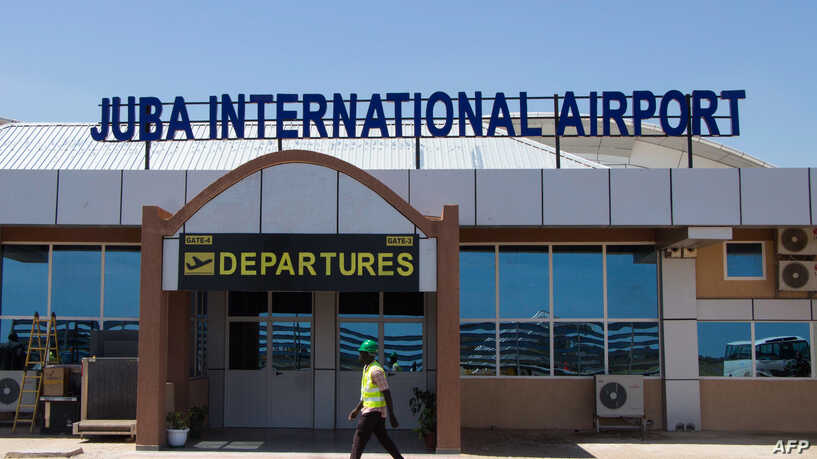 Juba – South Sudan has banned on inbound and outbound flights, mass gatherings, include church services in an attempt to prevent the spread of COVID – 19.
The 14 days' self – paid mandatory quarantines was granted to those who arrived in the country recently.
The decision was reached by the recently formed high-level committee for Covid-19 chaired by First Vice-President Riek Machar on Monday, March 23 in Juba, comes after all South Sudan neighbors confirmed cases of the corona-virus.
As of on Tuesday, March 24, Uganda has 9 cases while Kenya confirmed 16.
The virus, which was first reported in China in December last year, is said to be spreading to the whole world through international travels.
Most of the coronavirus patients in Africa tested positive after returning from European and Asian countries, including Italy, Germany and United Arab Emirates.
The directive from the coronavirus high-level committee takes immediate effect and comes after reports that the ban announced by President Salva Kiir and the Ministry of Health last week was not being observed.
The Committee issued a series of restrictions including the closure of Juba airport and all border entry points.
Committee secretary, also Undersecretary in the Ministry of Health, Makur Matur Koriom says the tightened measures are to protect the people of South Sudan from infection.
"All international flights destined for South Sudan – Juba international Airport – are advised to cease their operation by midnight, on Monday, 23 March 2020," said Dr. Makur.
However, Dr. Koriom further siad that there are exceptions, including cargo planes importing food items and medical supplies.
The committee also urged law enforcement agencies to implement earlier orders announced by President Salva Kiir, encouraging social distancing, to disperse all illegal gatherings to prevent coronavirus.
On March 16, 2020, President Salva Kiir banned all gatherings, including sporting and religious events, weddings, and political activities due to Coronavirus fears.
But these orders were violated at the weekend when some church services and traditional wrestling match were conducted in Juba.
"The taskforce…instructs the law enforcement agencies – the police, military and National Security forces – to take immediate actions to enforce these orders," Makur added.
On the same development, Rev Dr. Justin Badi Arama, Primate of the Episcopal Church of South Sudan, suspends the church services across the country.
"On Sundays, all christians should remain at home and pray from home with their own families until we get directives from the government that it is safe to congregate again," Archbishop Badi told press in Juba on Monday. "Although the corona-virus has disabled our fellowships, social life and physical touch, we should continue to touch each other's hearts with words of encouragements and prayer through phone calls."
So far, several coronavirus cases have been confirmed in most African countries, including the neighboring Kenya, Ethiopia, Sudan, and DR Congo.
The tally continent-wide thus stands at 1,400 and over with 40 plus deaths. Nigeria, The Gambia and Zimbabwe have reported their first deaths as of today. In all, 43 countries have registered cases with Egypt's 294 followed by South Africa and Algeria with 274 and 201 respectively.
According to WHO, you can protect yourself and family from coronavirus by washing your hands frequently with soap and water or using alcohol-based hand rub kills viruses that may be on your hands.
The UN health agency also advises that you must practice respiratory hygiene; this means covering your mouth and nose with your bent elbow or tissue when you cough or sneeze, then dispose of the used tissue immediately.
On the other hand, the United Nations Mission in South Sudan has put a seven-day freeze on staff travelling into South Sudan as part of the peacekeeping mission's support for national-led COVID-19 prevention efforts.
The decision will apply to all personnel except those who are critical to continuing UNMISS operations. Cargo flights will continue. The decision was effective last night.
Rotations of military peacekeepers were stopped on 4 March 2020 – well before the onset of the COVID-19 pandemic – and all upcoming rotations have been put on hold.
Flights for UNMISS staff moving between different field locations within South Sudan have been limited to essential movements only.
"UNMISS peacekeepers are doing a very important job. Many people's lives depend on us and the Mission is committed to maintaining its activities to protect civilians and build durable peace to the best of its ability given the challenges posed by COVID-19," said in the statement. "UNMISS will continue to respond proactively and rapidly to support South Sudan government efforts, while protecting its own personnel and the people that we are here to serve," it added.
But these measures do not an initially address the complex reality in the world youngest nation, a country with limited health services, struggling to emerge from six years of civil war that broke out in 2013 after two years of her independence from Sudan on July 2011, with many population groups at heightened risk – including displaced people and prisoners.
Over 1.5 million people remain internally displaced as a result of conflict, including close to 200,000 living in cramped United Nations Protection of Civilians' sites across the country.
Also, thousands who fled recent intercommunal fighting in the country are already in dire need of aid, including sanitation and health services.
Meanwhile, the country's prisons continue to be overcrowded, insanitary, and with inadequate health centers, which need immediate attention in order to combat the virus.
To alleviate the risk to local populations, South Sudan's unity government, should ensure public outreach on how to COVID – 19, by ramps-up sanitation and health services, clean drinking water, especially in towns, displacement sites, prisons, and detention facilities, including military training centers across the country.