ICT University unveils ideal system for e-learning in Cameroon
By Mua Patrick Mughe*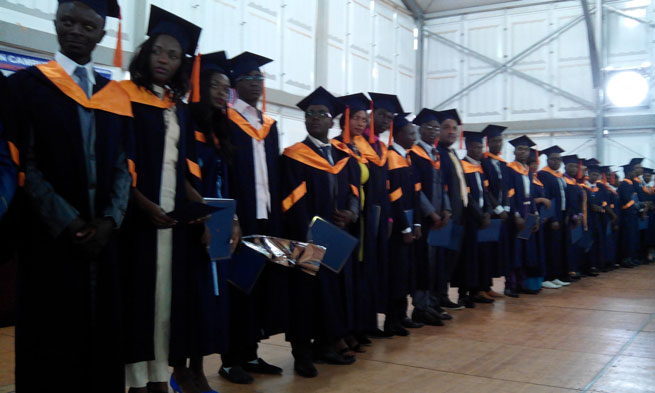 The ICT University Cameroon is currently a running an e-learning programme which by no exaggeration is second to none in the country. The system, which is of global standard, was presented to a small group of newsmen during a visit to the institution's Messasi-Yaounde campus Thursday.
The system is unique as it brings onboard simultaneously online and onsite learners during lectures, officials explained to the group of visiting journalists.
"Our system is innovative. E-learning is a novelty in our country and it gives students the flexibility to do their studies either onsite or online," said ICT University's Technology officer, Tani Schmidt Paul. Tani has a wealth of experience in Information and Communication Technologies, ICT.
He explained during Thursday's visit that "there are a lot of students who want to work while studying, so with the eLearning program, they can actually be working and still following up their studies at the same time".
"The system we offer here is a hybrid system where we integrate both the onsite and online students. They study simultaneously in real time," he said of the programme before explaining that "…The advantage with e-learning is that the classes are all recorded and the students can always go back and listen to the records".
"It is interactive; students can ask questions to the lecturers," he added.
In addition, he continued: "We have what we call the plagiarism system, because most at times when we talk of online evaluation, people ask how examinations go about. So we have plagiarism softwares which are used in scanning the scripts of students once there are submitted. This is to check for plagiarism".
"We have students taking lessons both in Cameroon and out of the country. We have students in Nigeria, Zimbabwe, Uganda and the US following classes right now," Tani explained.
"Already, we have campuses in Uganda. We have three campuses in Uganda. Right now, we are in the process of opening a campus in Nigeria, Abuja and Guinea Bissau, Botswana…those are areas we are targeting to open campuses," he announced.
Meanwhile, The ICT University Cameroon, it should be said operates a purely US-based curriculum to provide quality ICT and Managerial Human Capacity Development specially targeted for Africa, Latin America, the Caribbean and Asia.
The ICT University is a vibrant institution which aims at imposing itself as premier destination for research, innovation and training of scholars relevant for the context of developing economies.
The ICT University does not only offer degrees in ICTs. Rather, the institution imparts knowledge of ICTs in all academic disciplines it offers.
For example, a business administration (marketing) student at ICT University will graduate with a very strong expertise on how to build state-of- the-art e-commerce and other online business websites.
Founded in 2010, The ICT University has multiple campuses of The ICT University Foundation, USA.
All ICT University Foundation campuses are based in developing countries.
The ICT University Foundation is registered and chartered in the State of Louisiana, USA.
The Foundation is the funding organ of all ICT University campuses.
It also funds donations of ICT equipment, E-Learning laboratories and E-Libraries for many universities based in the developing world in general and Africa in particular.
The headquarters of ICT University's African campuses is based in Cameroon.
The University's Cameroon campus is accredited by the Ministry of Higher Education in Cameroon.
Serving more than 15,000 students worldwide via on-site and online programs, the ICT University develops productive and relevant Diploma, Bachelors, Masters and Doctoral level scholars to utilize their research and training in solving the substantial problems in their countries.
With a plethora of programs at the undergraduate, graduate and doctoral levels, including diploma and certification programs, the ICT University offers a dynamic and flexible learning environment that inspires innovation and creativity and places emphasis on student access.
The ICT University prides itself on offering an intimate, cutting edge campus environment disposing of all resources essential for producing tomorrow's leading ICT experts, technopreneurs, renewable energy engineers, and business managers.
The university has also created collaborations, partnerships and exchange agreements with leading US, African and other international institutions that further enrich the academic, social and cultural diversity of our campus.
Students of the institution have quite a unique experience with the set of clubs and social activities for recreational purposes and community engagement work, seminars and a whole lot of other activities vital in ICT-U core values assimilation.
*Culled from The Guardian Post Newspaper, Cameroon