COVID-19 Gambia: Jack Ma Donates Test Kits, Face Masks, and Protective Gears
By Bakary Ceesay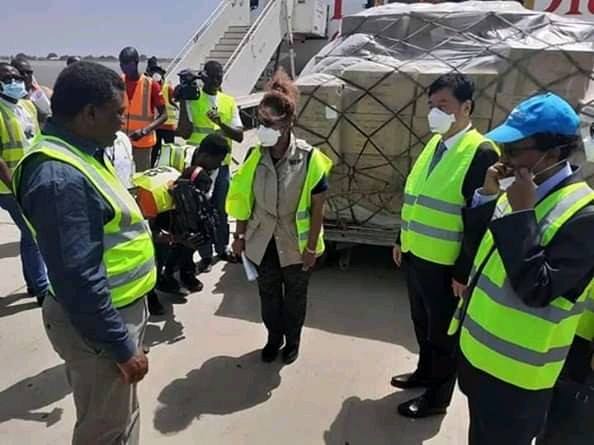 Chinese billionaire has donated The Gambia 20, 000 test kids, 100, 000 face masks and protective gears to effectively fight the Coronavirus pandemic.
The medical consignment is flown into the country by Ethiopian airline flight on Saturday, donated by Jack Ma through his Jack Ma and Alibaba Foundations in China.
The supplies are part of the continent-wide donation in support of actions towards the implementation of the Africa Joint Continental Strategy for COVID-19 led by the African Union through the Africa Centre for Disease Control.
Authorities were gathered at the Banjul International Airport to receive the consignment. The Chinese Ambassador to The Gambia, Ma Jianchun said China decided to provide emergency medical assistance to Africa considering the challenges confronting the continent at the difficult time of intensifying spread of the virus.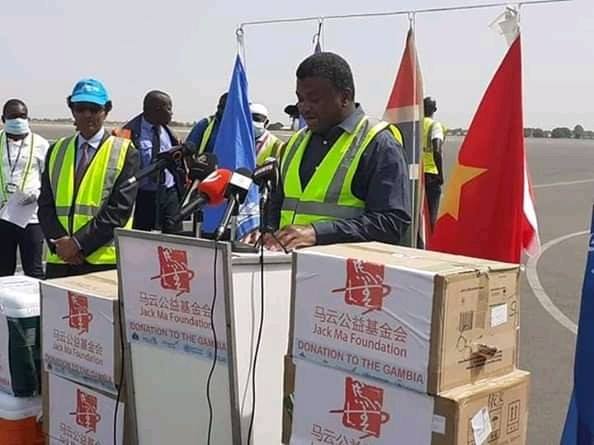 "China and Gambia are friends and reliable partners. At the moment, the coronavirus has already hit The Gambia and I would express our sympathy and support and solidarity with the Gambia government and Gambian people," he said at the handing over ceremony.
"Today we are here to receive more medical supplies donated to The Gambia by two Foundations in China; Jack Ma Foundation and Ali Baba Foundation. These supplies include 100, 000 face masks, 20, 000 testing kits, 1000 protective clothes. These supplies represent sincere friendship from the Chinese people to The Gambian people."
Dr. Amadou Samateh, Health Minister of The Gambia, hailed the Foundations for the timely support.
"With the donations of the equipment, these protective gears, the test kits, etc. we are going to deal with the cases we currently have in a better way. We pray against it but if we do have more cases, we will be in a better position to deal with it," he said.
Modou Njie, Director of Health Promotion and Education, assures that the equipment will be put into good use in combating the virus
Wanja Kaaria, World Food Programme Country representative, said the cooperation in fighting to end the virus is key and challenged Gambians and those living in the country to take precautions to contain the spread of the virus.
"To date Gambia has recorded a very few cases and among those we have seen only one unfortunate death, several people continued to be under isolation and several more in self-quarantine. Indeed today, we are pleased to receive a sizable consignment as donation for the African continent and the Gambia from Jack Ma Foundation, the founder of Alibaba," she said.

Dr. Desta Tiruneh, Country Representative for the World Health Organization (WHO), said the donation to The Gambia is part of the response to COVID-19 pandemic which was shared among all the 54 states in Africa.
"This support was directed to the African Union, African Centre for Disease `Control and Prevention has brought several partners together to save and expedite the delivery to The Gambia. The WHO globally and the Gambia will continue to respond to the response of COVID 19 pandemic," he said.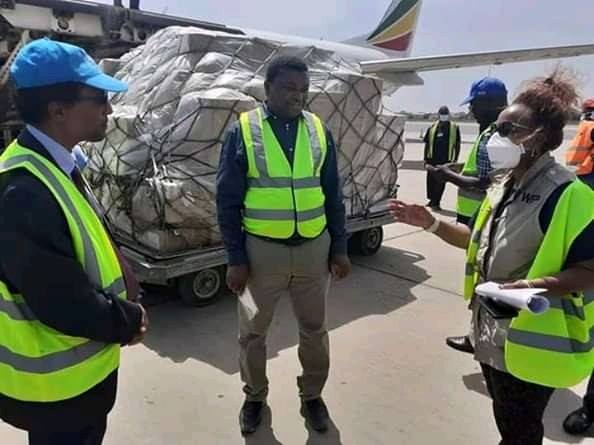 "The test kits and other materials received will go a long way in the fight against COVID 19 locally against the pandemic. The fight against the COVID-19 is a global fight. We are all together and this is why we are here today. Multiple stakeholders are putting together their resources and everything for the same cause of global threat to humanity. The donation is an excellent demonstration of solidarity."