African Jazz legend, Manu Dibango dies one week after testing positive of Coronavirus in France
By Amos Fofung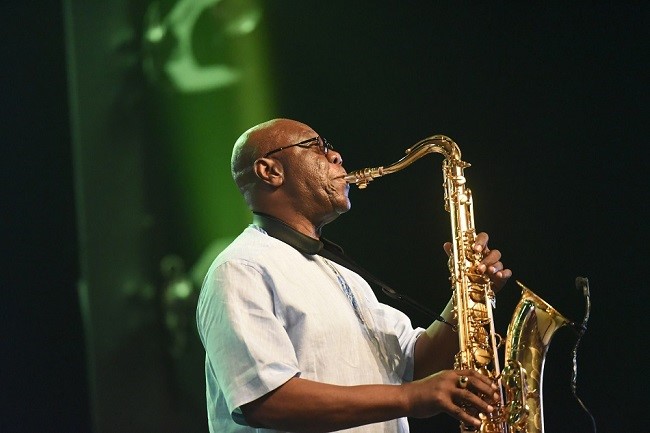 Cameroon-born singer and saxophone player Emmanuel N'Djoke Dibango, popularly known as Manu Dibango has died from the coronavirus, barely days after he was hospitalized in France.
According to a statement on his official Facebook page the veteran Afro jazz star, Manu Dibango succumbed to the Covid-19 virus Tuesday March 24, 2020.
"It is with deep sadness that we announce the loss of Manu Dibango," the post reads in part adding that funeral service will be held in strict privacy as per the family's request.
Information about the hospitalization of the 86-year-old African Star, best known for the 1972 hit "Soul Makossa", was first made public on Wednesday March 18.
Several Cameroonians including African football legend, Samuel Eto'o have taken to social media to mourn the loss of the saxophonist, who pioneered Afro jazz fusing funk with traditional Cameroonian music and performed in theaters the world over.
Among his biggest hit was the B side of a song to support the Cameroon football team in during the African Cup of Nations. The music gained international fame when it was picked up and popularized by New York DJs.
A one-time UNESCO Peace Artist, Manu Dibango was born in Douala, Cameroon, in 1933, and has amazed several international nominations and awards including a Grammy Award, two Charles Cros Academy awards for box sets, a Lifetime Achievement Award from AFRIMA among several others.
Rising from his humble beginnings to become one of Africa's most celebrated musicians, World Music & Jazz saxophonist Manu Dibango became celebrated for his distinct amalgamation of Jazz and Funk with the tradition music of his native Cameroon and the rhythms of Africa.
While studying in Paris, Dibango become exposed to a wealth of music and art not accessible in Cameroon. His heart became enthralled with Jazz, and he soon began playing music that combined sounds of his homeland with the Western styles of American Jazz artists such as Duke Ellington and Charlie Parker. Categorized as everything from Afro-Jazz to World Music to Afro-beat to Makossa to Reggae, Dibango created his unique sound by embracing the musical spectrum.