Uganda has one month to verify forces hostile to Rwanda on its territory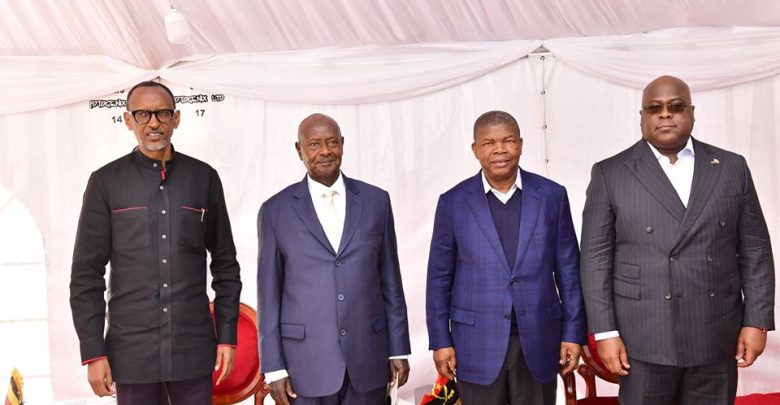 By Maniraguha Ferdinand
Uganda was given one month to verify allegations by Rwanda, on forces hostile to Rwanda that roam free on it territory.
This is one of the recommendations of quadripartite summit that took place in Gatuna border between Rwanda and Uganda, and was attended by presidents president João Lourenço and Félix Tshisekedi of Democratic Republic of Congo as mediators with President Paul Kagame of Rwanda and Yoweri Museveni of Uganda.
The summit comes after other previous ones that took place in Luanda aimed at calming down the situation between Rwanda and Uganda.
Rwanda has been alleging Uganda of harboring its enemies, illegal arresting and torture for its citizens as well as economic sabotage. Uganda accuses Rwanda of sending spies to its territory, closing the common border of Gatuna among others.
Friday summit commended the efforts by both sides on releasing prisoners as it was agreed on in previous meetings, and recommended to resolve remaining issues.
Being organized at the common border, people on both sides have been hoping that Gatuna summit will address the problem of border closure, but Heads of state resolved that such border will be reopened after verifying Rwanda's allegations that Uganda has forces hostile to Rwanda.
"The summit recommended that the Republic of Uganda should, within one month verify the allegations of Republic of Rwanda about actions from its territory by forces hostile to the Government of Rwanda . If these allegations are proved, the Ugandan Government will take all measures to stop it and prevent it from happening again", reads in part the final communique of the 4th quadripartite Summit.
"This action must be verified and confirmed by Ad Hoc ministerial commission," the statement adds
Four presidents agreed that once this recommendation is fulfilled and reported to the Heads of state , the facilitators will convene within 15 days a summit in Gatuna for the solemn reopening of borders and subsequent normalization of the relations between Rwanda and Uganda.
At Gatuna, Presidents Kagame and Museveni signed extradition treaty to handle cases of justice including those related to subversive activities practiced by their nationals in the territory of other party.
Early this week, Uganda released 15 Rwandans who have been in jail as a good will to implement Luanda agreement signed between both countries last year. Rwanda released 17 Ugandans as well.
Among released Rwandans, there are two wanted people who are alleged to have played a role in a rebel attacks that carried out by RUD Urunana, a rebel group operating from Democratic Republic of Congo. The attack killed 14 civilians and 19 attackers were gunned down by Rwandan army.