Rwanda and Uganda agree to release illegally detained citizens
By Maniraguha Ferdinand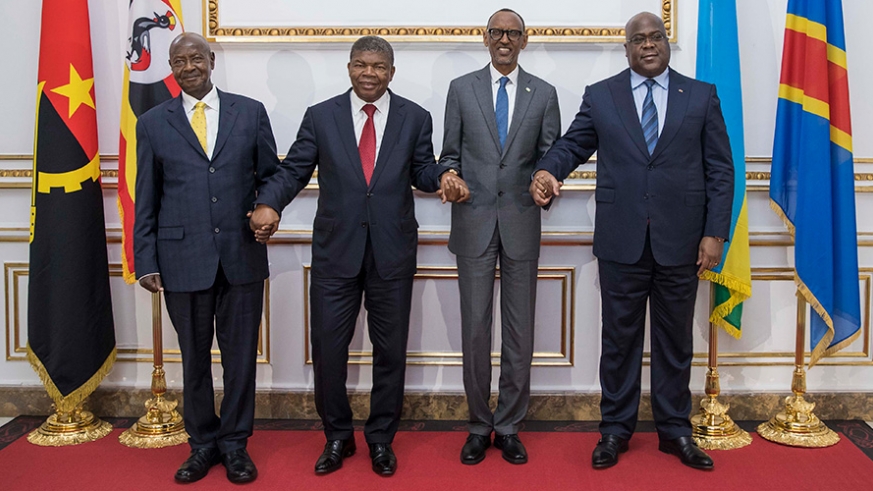 Rwanda and Uganda have agreed to release imprisoned citizens of each other, a question that had marred relations of both countries since 2017.
Both countries came to the agreement this Sunday, the 2nd February 2020 in the quadripartite summit held in Luanda Angola, on mediation of president João Lourenço and Félix Tshisekedi of Democratic Republic of Congo.
In an issued communique released after summit, President Paul Kagame of Rwanda and Museveni of Rwanda agreed "release of the national citizens of each country duly identified and included in the lists exchanged for this purpose."
Though the communique sums up all in general, only Rwanda had been complaining of its citizens being illegally arrested, detained and tortured by Uganda security forces.
In March last year, Rwanda was counting hundreds who were in Uganda's prisons and safe houses.
Rwanda also alleges Uganda of supporting groups aimed at destabilizing Rwanda while Uganda accuses Rwanda of sending spies on its territory.
Luanda summit resolved that "Both parties must refrain from factors that may create perception of supporting, financing, training and infiltration of destabilizing forces in their neighbor's territory."
"Both parties must continue to protect and respect the human rights of national citizens of the other party", it adds
Rwanda and Uganda's impasse has hurt economy especially in terms of business. The busy border of Gatuna in north of Rwanda was closed and movement of goods and people reduced.
It was the easiest way for goods coming from Mombasa port in Kenya through Kampala to Kigali.
Last week president Kagame told diplomats in Kigali that Uganda begged him to open the border and he refused because he is yet to be sure that Rwandans are safe in Uganda.
Luanda summit decided that the next quadripartite summit will take place in Gatuna in the common border between Rwanda and Uganda and it is slated on the 21st February 2020.
Since March this year, Rwanda had advised its nationals to avoid crossing to Uganda, over ill treatment they may get if they enter.
President of Rwanda Paul Kagame and Yoweri Museveni of Uganda in August last year signed memorandum of understanding to end years of hostilities between the two countries.