Mount Cameroon Race of Hope: Godlove Gabsibuin, Tatah Carine Crowned Champions
By Boris Esono Nwenfor
North West athletes continue to dominate the Mount Cameroon Race of Hope as Godlove Gabsibuin Bobuin and Tatah Carine, all from the North West Region were crowned champions in the male and female categories respectively.
The 25th anniversary of the race which took place Saturday, February 22, 2020, saw 500 athletes taking part in the race. Prior to the race, there were some 550 athletes who registered for the race but some 50 were disqualified on race day due to health concerns.
Godlove Gabsibuin won the race in 4hrs, 35mins, 50sec ahead of former champion Ndongeh Simplice (4hrs, 37mins, 56sec), and Elvis Nsabinla (4hrs, 42mins, 10sec). It was his fifth victory in the competition becoming the most successful male athlete in race, surpassing the great Tata Thomas who is on four victories. Gabsibuin won in 2012, 2013, 2015, 2018, and now 2020.
Speaking to the press, Gabsibuin said: "to win the race is just for you to watch your speed. It is not like you are running 100 km. I am an elder person in the field, and I know how to watch my speed."
The race this year unfortunately saw the non-participation of defending champion Mbatcha Eric. Eric who is in Finland posted a message saying he would not be participating in the race due to threats on his life and family.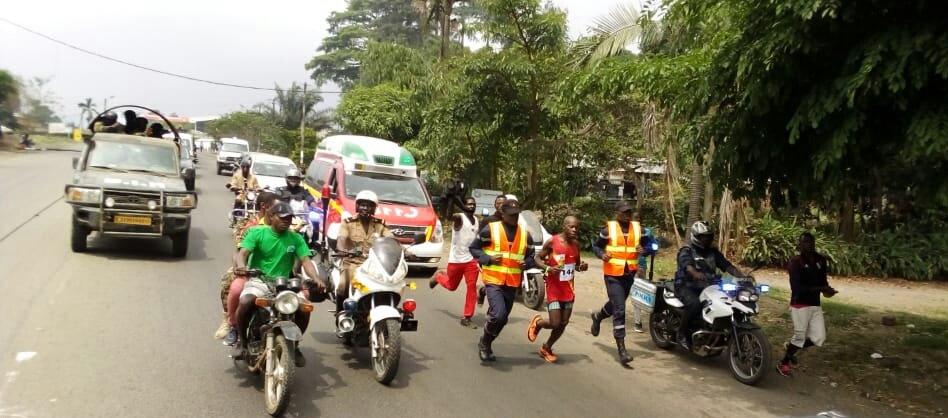 Three in a row for Tata Carine
22-year-old Tatah Carine made in three victories in a row in the race after she won it in 2018, 2019, and now 2020. She won the race in 5hrs, 25mins ahead of Kitang Mildred, who came in 5hrs, 27mins, and Wingo Kpuufonla in third position (5hrs, 32mins). In wining, Tatah Carine bagged home the prize money of FCFA 10million.
Tatah Carine is seen by many as a serious contender to challenge the records of Serah Etonge and Ngwaya Yvonne.
She however has a long way to go to be crowned as the best female athlete to ever run the race. One record is in her sight to break — the most consecutive victories in the race. Serah Etonge and Ngwaya Yvonne both sit at four successive victories, with Tatah Carine now on three victories. Should she succeed in winning the race in 2021, she will be tied with the greats and looking to overtake them in consecutive victories.
Serah Etonge's "Queen of the Mountain" title still stands
For several years now Serah Liengu Etonge's title has been threatened by Ngwaya Yvonne. The two women are the most successful athletes in the competition, and in the female category — both are on seven victories.
While Serah Etonge has retired from the race, Ngwaya Yvonne is still going strong, though the past three years has not seen her victorious. Last year, Ngwaya Yvonne finished on the third position but this year, she was placed fourth.
"I am not afraid that my record will be beaten," Serah Etonge told this reporter when asked about her record being surpassed. "I am not going to compare myself with young children. I am a mother who gave birth to several children, and the others are still very young."
Since Serah Etonge last won in 2005 in the female category and Tata Thomas (1992, 1996, and 1998) in the male category, no athlete from Buea or the Fako Division has ever been successful in clinching the title. Lyonga Samuel Esombe has come close to breaking that hurdle with a third place finish. This year he could only come in 9th position.
Lyonga Samuel has noted that the attack he suffered last year as he was training for the 2019 edition is still being felt and was the reason for his poor showing this year.
Serah Etonge said she is surprised that no one from this Division has been able to do that. She said: "Discipline is a key to success. You can educate people on the race, tell them what to do to prepare but you cannot run for them or know what is in their mind. We hope that something will be done in that light."
One of the innovations for this year was the introduction of prize money (FCFA 500,000) for the first athletes in both categories to reach the summit. Godlove Gabsibuin of Cameroon and Flavious Teresa of Kenya both scooped the prize money.
Foreigners making great strides in the Race
Since Mike Short from Great Britain (1984 and 1985), and Rev Stifter Walter from Italy (1976, 1977, and 1978) in the male category and Diamentides Helen from Great Britain (1988), Rueda Fabiola from Argentina (1989), and Smith Sally Gold from Great Britain (1990), no foreign athlete has ever come close to the podium.
The foreign athletes' hurdle has always been that of descending the mountain. Things look to be coming into place for them as the years go by. The first athlete to reach the summit in the female category was Kwamboka Flavious Teresa from Kenya. Unfortunately for her, descending was an issue as she could only finished fourth.
In the male category Charles Kipkorir Kipsang from Kenya finished on the 6th position. "The race is a grueling one, more difficult than other races in Africa," Kipkorir Kipsang told this reporter.
"What is an issue for me is the issue of descending the mountain. Hopefully in the next years, we (Kenyans) will be able to do better in the race." "At the moment I am preparing for the Ottawa Marathon in Canada which will be coming up in May this year," He added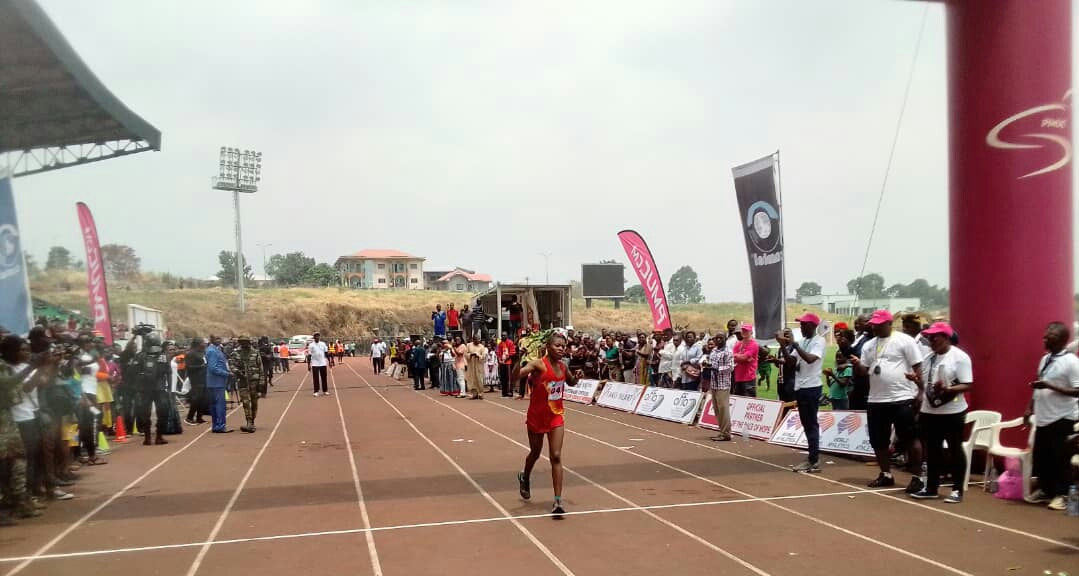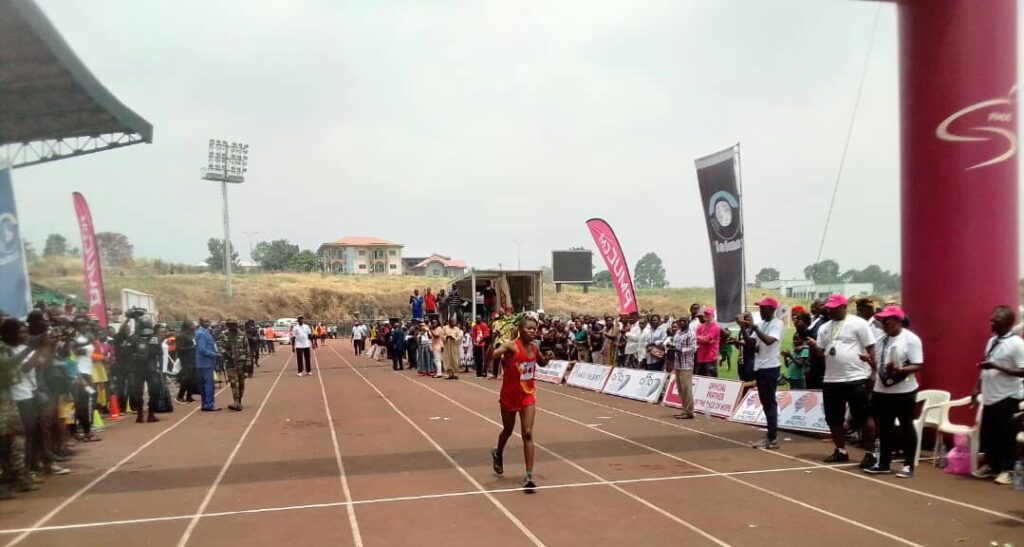 Other winners
Veteran category — Men
Muam Emmanuel Kah
Taponfack Patrice Romuald
Fotso Tagne Emile
Veteran category — Women
Nogha Brigit (2018, 2019 and now 2020)
Nkambi Martina
Junior Men
Saidu Habilar Modih
Yaya Ilyasu
Saidou Moumini
Junior Women
Ndifon Pamela
Ntume Macrita Yinyuy
Lateh Flore