Leave Rwanda-Uganda matter to two Heads of State to decide
By Mohammed M. Mupenda*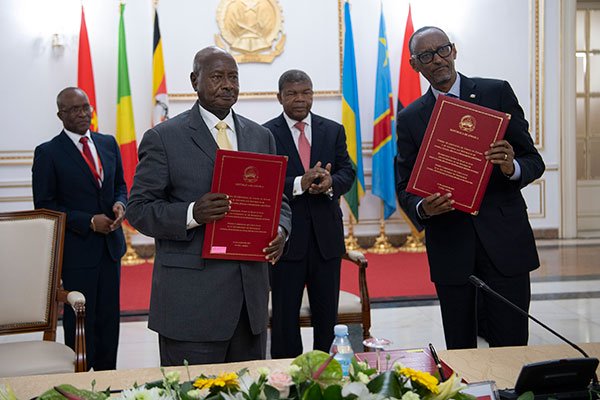 There are dates you can hardly forget in the event which unfolded between the two countries, Rwanda-Uganda when their communique was made official, those are, an advisory note issued to advise Rwandans not to cross the border to Uganda, Luanda signing pact which never yielded the positive results and the release, deportation of Rwandans who were incarcerated in Uganda's military cells.
These dates with their happening could always be abrupt to the citizens of both countries and some put a smile on them as they wait to see the outcomes of pact but of course free movement to both citizens is paramount and they would mostly wish to see pact signed in Luanda being implemented as peaceful and diplomatic solution to the row that paralysed business, took peoples' lives, separated family and friends and made life a misery to both countries' ordinary citizens.
In the move of having the row ended, Uganda made a surprise towards early this year and released nine detainees who were considered political and accused of espionage to Uganda. This political move ignited various reactions on twitter, Facebook and in the local media. Some activists in Uganda protested the move by calling on Uganda's government to avail justice to those who believed these people had committed crimes against humanity such as involvement in killing many Rwandans who had fled from Rwanda.
Self worth initiative, the non profit organisation headed by Ms. Prossy Bonabana executive director was the first to protest and others brought it on facebook and twitter supporting the move of which Rwanda citizens and officials including Minister of East African affairs Olivier Nduhungirehe rebuffed the protest and called it off saying that Ms. Prossy Bonabana is serving Rwanda National Congress, the movement Rwanda calls a terrorist group headed by Former Rwanda chief of staff General Kayumba Nyamwasa who currently lives in South Africa.
Ms. Boonabana argued that some of these victims have their husbands, sons and relatives still incarcerated in Kigali safe houses without trial or prisons serving life sentences on politically motivated charges adding that many Rwandan refugees in Uganda have been living in fear.
"It was at the height of cries and quest for justice in 2017 that the relatives of victims took a leading role to voice out and condemn these aggressive activities by the Rwandan security agencies. These Rwandan agents had claimed the lives of many people and had pushed several others to live in constant fear," she stressed.
Since 2017, the victims have eagerly waited for justice to finally prevail through court systems, only this week to receive a shock of their lives that the government was withdrawing criminal charges against the seven hardcore Rwandan intelligence agents. This, we strongly condemn as miscarriage of justice," she said.
Despite of the move igniting mixed reactions, most of us, friends, analysts applauded it. And this is because, we were waiting to see the row that has put people's lives at risk get to an end.
According to Dr. Frederick Goloba-Mutebi, political scientist and an anthropologist, the decision to release them was political, in the interest of repairing relations. On those grounds alone, it was right. The tensions are not good for either country.
But also we have to establish whether the Government of Uganda withdrew charges or lost interest in the case. Whatever it did, however, raises questions about whether it had prima facie evidence against them or not, given they were in custody for 2 years or more.
They can sue, and that will be good, if they have grounds for doing so. It's their right, if their rights were violated.
Rwanda Ambassador Frank Mugambage said it was (only) a step in the right direction. That suggests it is not enough.
While exchanging chats with friends and family advising them to go ahead to visit families, friends and transact business with Uganda since I knew the borders were opened, to many people, this was a dream which never came true when Rwanda's Head of State told the diplomats that he is not about to tell his citizens to return to uganda, because he has no control over their safety while there.
Addressing more than 60 diplomats at the Presidency in Kigali on Wednesday evening, Kagame said there were still hundreds of Rwandans in Ugandan jails and that telling his people they were safe in Kampala would be a lie.
This perhaps gave the clearest hint on the progress of the efforts to resolve the dispute between Rwanda and Uganda, indicating the two countries are far from reaching a resolution.
Kagame told Rwandans "just stop going there because if you go there, I have no control. They may arrest you, and your families will come to me and say you have been arrested. And there is nothing I can do about it."
He revealed that he and Museveni will be going back to Luanda, Angola soon to review the progress in implementing what was agreed in the first meeting in August last year clarifying that the issue is between him and Museveni.
Note that ad hoc commissions failed to reach a solution after meeting in Kigali and Kampala and resolved to consult presidents
It is also said that what's happening between the two countries is an issue between their two first families
The disappearance of ordinary citizens has not ceased to happen as Uganda citizens keep asking Uganda government about the citizens being killed while trying to cross the border and one of the Ugandan, Kigali based engineer who went missing end of last year.
It is a year now since Rwanda decided to close the Gatuna border with Uganda.
Second Luanda meeting resolutions which set 21st February for next meeting at Gatuna, and this gives hope to many that the border would be opened right away.
*Mohammed M. Mupenda is a news correspondent and freelance reporter, who has written for publications in the United States and abroad. He is also a French and East African language interpreter.