Gambia: Barrow Tasks University to Focus on Research
By Bakary Ceesay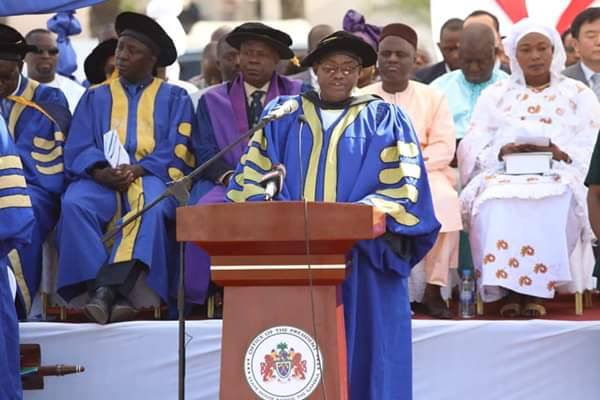 President Adama Barrow says the University of The Gambia (UTG) should focus on research, data collection and information exchange, on all aspects of humanity, as part it's  activities.
Stating that it is trendy to institute established standards of rigour in research, President Barrow said: ''particularly relevant for our democracy are Human Rights and allied issues''. This he added will inform policy for development.
The Gambian leader was speaking during the 12th convocation ceremony of The University of The Gambia on Saturday.
The graduation ceremony witnessed a total of 771 students were conferred a Bachelors degree while 98 awarded post-graduate/ Masters.
''In The Gambia, the need is quite urgent for policymakers to engage academics, and benefit from their practice and knowledge to ensure that we embed their expertise into policy formulation processes and implementation for optimum performance and results''. He noted
Underscoring the importance of policymakers engaging academics, President Barrow said: ''independence of The University of The Gambia will be safeguarded to enhance empirical research and unbiased learning and teaching processes, which are central to the mandate of all institutions of higher learning''.
He added that the academic freedom will enable the University to entrench internal monitoring mechanisms and to provide reliable feedback to Government and its institutions for appropriate action.
Touching on the non-interference policy of his government, President Barrow said the Human Rights institutions continue to perform their duties according to their mandates, to ensure good governance and transparency.
''Through them, more awareness of the people's rights and freedoms would endure. It is assumed that this will minimise ignorance, and allow for unleashing the creative potentials of the citizenry'' the President said while urging UTG that their programmes or courses have to be functional and responsive to societal needs.
While applauding the graduates for their success, President Barrow reaffirmed his government's commitment to supporting and strengthening the UTG in order to augment their contribution towards establishing a viable and flourishing nation built on a new model of democracy and good governance.