U.S Renews Travel Advisory on DR Congo; Ebola among Root Causes
By Mohammed M.Mupenda*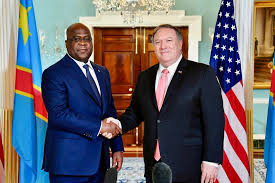 The United States of America has renewed its travel advisory on the Democratic Republic of Congo advising travelers to reconsider travel to some provinces due to crime, civil unrest, and Ebola.
The press release issued on this Thursday, January 2, 2020 by the Department of State warned people not to travel to North Kivu, South Kivu, and Ituri provinces due to Ebola; North Kivu and Ituri provinces due to terrorism; the eastern DRC region and the three Kasai provinces due to crime, civil unrest, armed conflict and kidnapping.
"Violent crime, such as armed robbery, armed home invasion, and assault, is common and local police lack resources to respond effectively to serious crime. Assailants may pose as police or security agents," reads the release.
The advisory replaced previous Travel Advisory that was issued on April 9, 2019 but remained level three.
"Demonstrations are common in many cities and some have turned violent. Police have at times responded with heavy-handed tactics that resulted in civilian casualties and arrests," adds the release: "There is an outbreak of the Ebola virus in eastern DRC, which may affect other areas in the country. The CDC issued a Level 2 Travel Notice for Ebola in the DRC."
The U.S. government also says it has extremely limited ability to provide emergency consular services to U.S. citizens outside of Kinshasa due to poor infrastructure and security conditions.
Despite remaining at level three, the advisory changed to level four for some regions including North Kivu and Ituri Provinces due to existence of terrorist and armed groups that "have attacked military and civilian targets, and represent an ongoing threat to humanitarian aid workers and other NGO personnel operating in the area."
The advisory also changed to level four for North Kivu, South Kivu, and Ituri Provinces due to outbreak of Ebola virus.
"Violent crime, such as murder, rape, kidnapping, and pillaging, continue throughout North Kivu, South Kivu, Ituri, Tanganyika, Haut Lomami, Bas-Uele, and Haut-Uele and three Kasai provinces of Kasai Oriental, Kasai Central, and Kasai," the release adds.
Among the advises that U.S government gives to its citizens who travel to DRC include avoiding demonstrations, use caution when walking or driving, always having a copy of their U.S. passport and DRC visa and keep originals in a secure location and also reading the CDC Travel Notice on Ebola in the DRC.
*Mohammed M. Mupenda is a news correspondent and freelance reporter, who has written for publications in the United States and abroad. He is also a French and East African language interpreter.