South Sudan:President Kiir pardons 30 prisoners, including Peter Biar, Kerbino Wol
By Deng Machol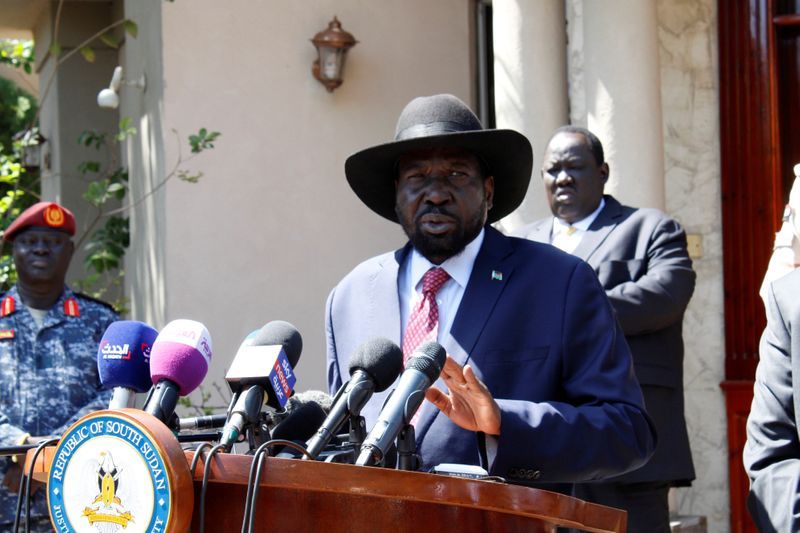 Juba – South Sudan President Salva Kiir has pardoned thirty prisoners including political activist Peter Biar and Businessman Karbina Wol Agok as gesture towards peace and reconciliation, as the country is implementing a fragile peace deal.
The presidential decree releasing the thirty convicts was announced on State based media on Thursday evening in Juba.
The decision followed the President's visit to Juba central prison on Christmas Eve where he said inmates with minor cases would be pardoned and promised to release some inmates who had shown good conduct on the New Year's Eve.
Among those freed are prominent political activist Peter Biar Ajak and philanthropist Kerbino Wol Agok.
On 11 June 2019, a court in Juba sentenced to jail, London – based economist Peter Biar Ajak and businessman Kerbino Wol following accusations that they threatened the security of the state.
Activist Biar was sentenced to two years in prison, while businessman Wol got 10 years. Biar was initially detained by the National Security Service (NSS) in July 2018 while Wol was detained in April the same year.
Biar was accused of inciting violence and disturbing the peace over interviews he gave to the media during a stand-off between inmates and guards at the National Security Service headquarters on 7 October 2018, while Wol was accused of masterminding subversive activities against the government.
The pairs were also charged with possession of firearms and sabotage among others.
The arrest and subsequent convictions of Peter Biar and Kerbino Wol attracted condemnations from within and outside the Country.
The 30 inmates were released from prisons across the country with effect from January 1, 2020. Some of the freed inmates are juveniles.
The inmates pardoned are from Juba Central Prison, Wau, Tonj, Kwajok and Torit state prisons respectively.
However, president Kiir's pardons have received vital reactions from the citizens, including social media, saying this has opened a glimpse for a peace in the country.
Philip Anyang Ngong, defense lawyer for political activist Peter Biar, said he welcomed the bold decision taken by president Kiir.
"It's the best gift of the New Year to us the lawyers as well as the family of Peter Biar and we commend the president for that," Anyang told Africanews, adding that the decision by the president to invoke his discretion as provided by the law.
Anyang, who submitted his appeal after the Juba court sentenced to jail Peter Biar, says president's order cancels or to reprieves the appeal.
Observers say this is truly a manifestation that the year 2020 will be a year of peace in South Sudan.
"Peter Biar Ajak is free at last!!! I look forward to when Peter Biar will leave the prison and head home tomorrow, and when he will be united with his kids soon. 2020 is definitely a year of peace, and it has started well," Biar's wife Nyathon J. Hoth, wrote it on her feedbook page.
The inmates were supposed to be released today, Friday but due to the level of bureaucracy in the fragile country delay it and the authorities on the pardons didn't act swiftly on the other hand.
Ajak Mayool, Lawyer of Kerbino Wol, among others says all the paperwork would be have done before but unfortunately it had, something he says it almost fade away a happiness of the people.
"The happiness that had been there since yesterday and a better part of today, till on but only some bits of frustrations are coming on because people seem to know what is a happening," said Mayool, adding that we still hopes to see the goodwill of president.
Kerbino further says 'it is a goodwill gesture – it is a gesture that the president is concerned about his people – it is a gesture there is a peace and the president is a peace-lovers."
The family of inmates gathered today at the Central Prison Service but the releasing didn't comment, something that 'frustrated them."
But, Akoon Agok, Kerbino's brother says theirs' excitement and joyful should not be fade away by this hectic bureaucracy, pointing out that the days they spent in prison are more than a days they will be release.
The pardons' inmates were the victims of conflict that broke out in late 2013 after the political disagreements between president Kiir and his former – foe Dr. Riek Machar.
President Kiir, opposition leader Machar signed a peace deal in September 2018, largely stopping the bloodshed that began five years earlier in the world's youngest country when the pair fell out.
Since then, the two principals have missed two deadlines to form a power-sharing government, a fundamental belief of a peace deal that the regional and international community observers' fear is in peril of collapsing.
As a last chance for Kiir, Machar, have until February to form a unity government to iron out key pre – transitional sticking points – namely how to unify their faction – fighter under one national army, and agree on the number and boundaries of states.
The political violence in South Sudan has killed close to 400,000 people, uprooted four million people from their homes – both internally and externally before it devastated the country's economy.