South Sudan: Release Activist Peter Biar Ajak Vows to continue political work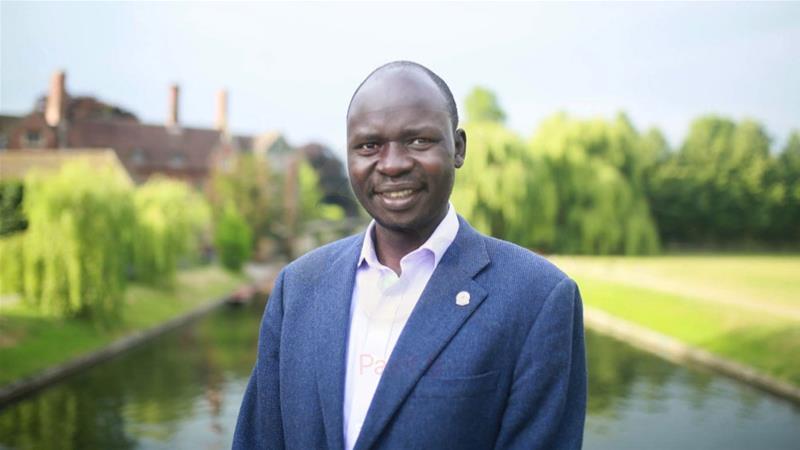 By Deng Machol
Juba – South Sudan political activist and economist was freed from prison on January 4, 2020 after a presidential pardon, vowed to return to his political activism work to ensure peace goes forward in the world youngest country after years of civil war.
Peter Biar Ajak was one of Sudan's lost boys' displaced during the civil war in then Sudan. He resettled in the United States, studying at La Salle University in Philadelphia and Harvard University, before moving to Cambridge University.
Biar had been a critic of his country's regime. When returning to his home country on 28 July 2018 to hold a youth forum, he was arrested and taken directly to custody.
Biar was among the president Kiir's pardoned, 30 inmates who had been detained in what analysts and lawyers termed as a 'modern-day hellhole' in South Sudan.
After released, Biar said 'words cannot express how grateful.' "It has meant so much to us and given us the strength we needed. It's a new year and a new decade and my wish is that this year will be the start of lasting peace in South Sudan," said Biar in a brief statement to reporters in Juba on Saturday.
A Cambridge University student further stressed that "I will go back to my work. My work is to ensure that this country live in peace, stable and it is moving forward. This country is a place that can reward a million of martyrs that sacrificed their lives for this nation."
Bair, in rough tone said he feel relieved despite that his detention had been "extremely harsh, cruel and was very difficult."
"It was extremely harsh particularly at the national security detention, it was beyond description but since we arrived at Juba central prison, our treatment has been extremely great," Biar explained
Biar further said his medical check-up is a priority after poor health treatment behind bars, including his family particularly a wife and children, who were extremely, missed him, residing in Nairobi, Kenya.
"The first thing for me would be get health check – this is because for the last year and half, I have been without proper medical attention and then to also meet my family. So, I can't wait to see them and the rest of the family," said Biar
The presidential pardon for some 30 inmates was announced Thursday evening, followed the President's visit to Juba central prison on Christmas Eve where he said inmates with minor cases would be pardoned and promised to release some inmates who had shown good conduct on the New Year's Eve.
Biar was initially detained by the National Security Service (NSS) in July 2018. He was sentenced to two years in prison by Juba court on 11st of June, 2019 after being accused of inciting an uprising behind bars and threatening the peace and security of the state over interviews he gave to the media during a stand-off between inmates and guards at the national security service on October 7, 2018. Human rights groups and others had protested Ajak's arrest without government explanation.
However, friends and family waited in vain on Friday for the release while South Sudan's justice and interior ministries were processing the order.
During the release, Bair's father, Major Gen. Ajak Deng Biar, joined his son in expressing happiness at the release.
"There is a saying that the government can arrest and release anybody, my son was arrested and is now release by the government. I am happy for that and very thankful to president Kiir for releasing my son," said Deng, former director for the international growth center policy think tank.
Political activist Bair regained his freedom with other 29 inmates, including business philanthropist Kerbino Wol, arrested in the same and had been sentenced to jail to serve 10 years in prison, accused of masterminding subversive activities against the government.
When asked to justify whether charges – labeled against him were unjust or fair, Biar said it is up to the public to judge, analyze and draw conclusion.
The observers, activists and analysts said the release of Biar, including Kerbino Wol was a bold step toward a lasting peace and reconciliation in the fragile state.
The new development has also picked by the international community, Tibor Nagy, Assistant Secretary for U.S Department of State's Bureau of African Affairs, wrote on his twitter account that Washington hopes the government of South Sudan will do more to support freedom of expression.
"South Sudan is stronger when there is true political space for voices of dissent from opposition parties, civil society and media," said the diplomat.
South Sudanese parties was meant to free all political prisoners under a revitalized peace deal signed in September 2018 to end its five-year civil war that killed almost 400,000 people, displaced four million people from their homes, before devastated the country's economy.
The peace deal has been extended twice, therefore the crucial next step,
The formation of a coalition unity government between president Kiir and armed opposition leader Riek Machar was delayed for 100 days in November to February 2020, something that dismay the citizens, partners and international community.
The region, troika countries and others have expressed hope that the current deadline will be met in spite the pre-transitional period issues in order to end a bloodshed in the horn of Africa country.