Rwanda drops 3 points in corruption index as Africa lags behind
By Jean d'Amour Mugabo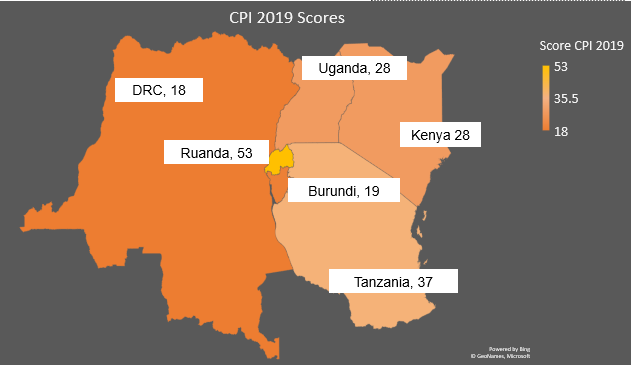 Rwanda has dropped 3 points to a score of 53 in Corruption Perception Index 2019 (CPI) in public sector and equally 3 places to 51st globally compared to the score of 56 and 48th place in CPI 2018.
The smallest but least corrupt East African country retained the 4th place in Africa, according to the report released today by Transparency International, the anti-corruption watchdog.
Speaking at a press briefing on the report in Kigali today, Transparency International Rwanda's Chairperson Mrs Immaculée Ingabire said Rwanda has mechanisms and laws towards the fight against corruption but the government needs to ensure efficient implementation of these mechanisms to improve on the score.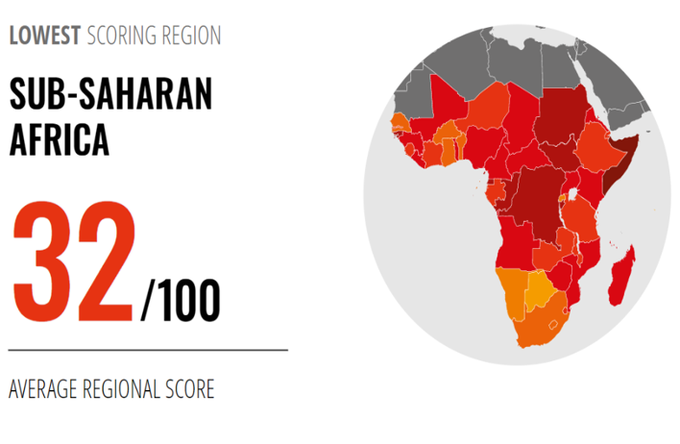 "Three points are so many especially to Transparency International because no country has ever improved by 3 points in one year, so it's so heavy to drop them in one year," she said, adding that among 7 data sources of Rwanda CPI, two have recorded a decrease namely Bertelsmann Foundation Transformation Index and World Economic Forum's Executive Opinion Survey (EOS).
Commenting on the reasons behind Rwanda's drop, Albert Rwego Kavatiri, the programme manager at TI-Rwanda, said the Rwanda's tensions with Burundi and Uganda which interrupted movement of people and goods, infiltrations on Rwanda's territory by armed groups in 2019 including an attack which killed over 10 civilian people in Northern Rwanda and more attacks in the Southern Province especially in the surrounding of Nyungwe Forest, all led to the poor grading of Rwanda in CPI 2019.
Rwanda's Ombudsman Mr Anastase Murekezi said it's sad that the country dropped 3 points and vows to increase efforts in tackling the graft to ensure that Rwanda improves in the next report.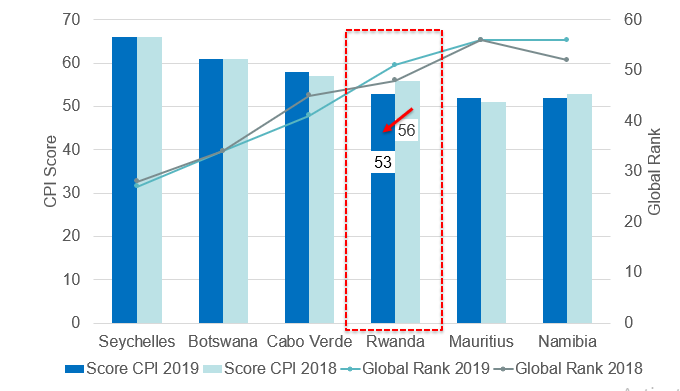 "Our country has a lot to do in fighting corruption. Zero tolerance to corruption must be a reality. We are going to invest more concerted efforts in the fight, work with all organisations dealing with the corruption, and improve our working with the media and musicians in the anti-corruption campaigns," he said.
Highlights in figures
CPI analyses public sector corruption and ranks 180 countries and territories, drawing on 13 surveys of business people and expert assessments. The 2019 CPI reveals that a majority of countries are showing little to no improvement in tackling corruption. It uses the scale of zero as highly corrupt to 100 as the cleanest.
CPI 2019 ranks Denmark and New Zealand as the first tying at the score of 87, followed by Finland, Singapore, Sweden and Switzerland to wind up the top five. At the bottom line, there is Somalia as 180th with the score of 9, preceded by South Sudan at 179th place with 12 score and Syria as 178th with the score of 13.
More than two-thirds of countries along with many world's most advanced economies are stagnating or backsliding in their anti-corruption efforts. More than two-thirds scored below 50, with an average of 43. Only 22 countries have significantly improved their scores including Greece (+12), Guyana (+12) and Estonia (+10) since 2012 while 21 countries have extremely declined including Australia (-8), Canada (-7) and Nicaragua (-7) in the same period.
Four G7 countries score lower than last year. These are Canada (-4), France (-3), the UK (-3) and the US (-2). Germany and Japan remained constant while Italy gained one point to 53 score, tying with Rwanda, Grenada, Malaysia and Saudi Arabia at the 51st position.
Analysis of the results finds that countries in which elections and political party financing are open to undue influence from vested interests are less able to combat corruption.
"Governments must urgently address the corrupting role of big money in political party financing and the undue influence it exerts on our political systems," Delia Ferreira Rubio, Chairperson of Transparency International, says in the report.
The case of Africa, regions performance
African countries lag behind as 7 out of 10 last performers in CPI 2019 are African countries.
CPI 2019 ranking of the regions ranks Sub-Saharan Africa as the last with an average of 32 scorers in 49 countries assessed while Western Europe and European Union is the best with the average score of 66 in 31 countries assessed in the region.
Asia Pacific comes second best at 45 average score in 31 countries, Americas as third at 43 average score in 32 countries, Middle East and North Africa region is fourth with 39 average score in 18 countries while Eastern Europe and Central Asia is fifth at 35 average score in 19 countries assessed.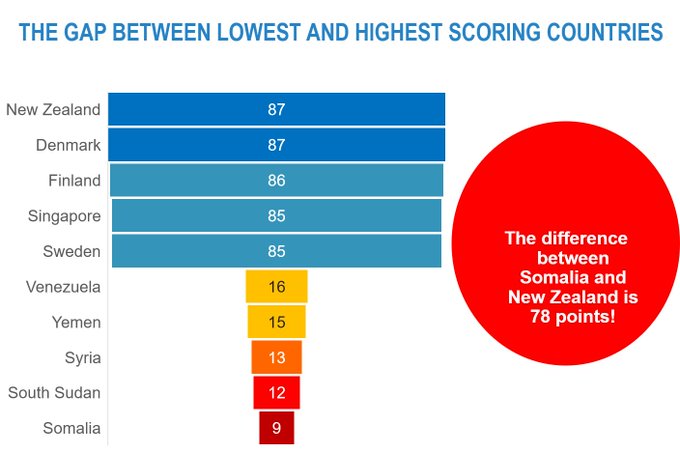 To curb corruption, Transparency International recommends countries to manage conflicts of interest, control political financing, strengthen electoral integrity, regulate lobbying activities, tackle preferential treatment and empower citizens.