Rwanda and Zimbabwe in Partnership For Forum To Boost Regional Integration in Africa
By Nevson Mpofu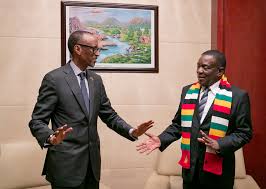 Harare—–Rwanda and Zimbabwe which are COMESA Member States have joined hands of Commercial and Economic solidarity in the spirit of bilateral relations through an Investment and Trade Conference to be held from 4 to 6 March this year in Rwanda Kigali . In the aura of Economic Integration and open for Business partnership, Rwanda President Paul Kagame and Zimbabwe President Emmerson Mnangagwa will officially open the conference.
This come to note through an invitation advanced to press, Business Executives, Economists, captains of Industry and Government officials who attended a conference hosting ceremony launch in Harare. Speaking to delegates at a hotel in the city, James Musoni His Excellency Zimbabwe's Ambassador to the Republic of Rwanda promised to kick the ground in a bang. He said the conference is historic and of great opportunity un-ever met.
'' This is a History making process headed by heads of State of the two countries. The two countries have made bilateral relations which will be tabled in dialogue at the 24 to 26 March conference this year. The objective is to foster Trade and Investment relations among our people. We have to strengthen these relations and partnerships meant to up-lift people out of poverty through Regional Integration.
''The conference will un-pack available opportunities in Rwanda so that Zimbabwe Business people can penetrate Rwanda. They will explore and identify opportunities in the country.
Rwanda has over the past decade experienced 8% sustained economic growth Annual Gross Domestic Product since 2007. This explains clearly that Rwanda is one of the fastest growing economy. The Ambassador further digs down that vast opportunities are in sectors such as Agriculture, Energy, Tourism, ICT, Infrastructure, Real Estate and Construction.
''This is given evidence by recent launch of the first ever made smart phone in Africa. It is called Mara Smart-Phone . Zimbabwe can import these smart-phones. Business is always easy if done and well managed. We have Rwanda Air which plies the Harare –Rwanda route on a daily basis.
Deputy Minister of Foreign Affairs and International Trade in Zimbabwe David Musabayana said Rwanda has vast investment incentives Zimbabwe can take advantage of. He further cited that registration is easy and accessible than in some other countries.
''Zimbabwe will obviously boost its economic growth because of the fast on-line business and registration that only takes a day to facilitate. Access to services like electricity utility is easy. Investors are assured of a country without corruption, investment impediments and inconveniences related to business operations.
''A business can be registered in 6 hours while a Bank account can be opened in less than an hour'',
Rwanda and Zimbabwe are both countries in COMESA, a free trade bloc with 19 countries. It means free movement of people and goods between the two countries. Rwanda is signatory to the 2018 Kigali African Continental Free Trade Area Agreement currently being implemented under the African Union. Rwanda is as well a member of the East African Community like Zimbabwe which is a member of the SADC family consisting of 17 countries.
On the International scene Rwanda is the 7th most efficient Government. It is now a safe destination in Africa. It is now competitive in economic activities. This makes it easy to do business in the Sub-Saharan Africa.