President Mnangagwa On Leave Commits To Opening First Of Its Kind ICT Assembly Plant..
By Nevson Mpofu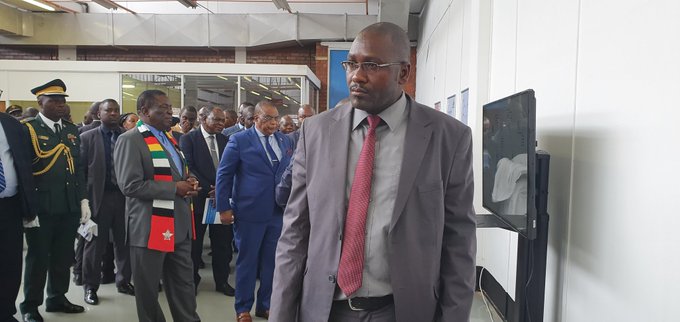 President Emmerson Mnangagwa upon request from the Permanent Secretary in his Office Misheck Sibanda absconded one day of his leave to attend opening of the 1st ever Information Communication Technology Assembly Plant a unique Computer Centre in Msasa Industrial Area of Harare on Thursday 16 January .
The centre is a company run by the Zimbabwe Information Technology Company [ZITCO ] It has other consortium of Stakeholders which are TEL-ONE , Zimbabwe Government and INSPUR a Chinese Company .
Addressing a Press Pack of Journalists, President Mnangagwa pointed out that the first ever kind of Information Communication Technology Company is an eye opener which mirrors development in terms of ICT in the country . He commented that such an event was unique since all the assembling of Computers internally was to give the country new way-forward in terms of Information Communication Technology.
''This is simply an eye-opener because we are a way ahead as a country. Such an event is unique because this is 1st of its own kind. ICT is the way to go, so, we have to appreciate this. The spirit of co-operation with China remains vital in our economic growth and development''.
President Mnangagwa said the growth of ICT promotes Domestic markets which needs to grow so s to foster economic growth and reduce poverty in the country. He pointed out that this also makes external markets move at par – level with our domestic ones.
''Our domestic markets will grow and create new opportunities for our graduates in ICT. Since this means we have to assembly computers as a country, we grow in terms of the Domestic Markets opening up way in job creation.
'' I am on leave but I have dedicated my time to be here . Mr Misheck Sibanda is the man who made me be part of this program. Some time back he told me about this. While on leave, he phoned me informing me that I am invited to attend this occasion. I also encouraged the Acting President Mr Constantine Chiwengwa to attend as well.''
In his speech TEL-ONE staff, Engineer Munembe said the project is a make-up of several stakeholders in the ICT Industry of Zimbabwe. He said the project was supported by the President's office. This he said is an idea which stands to show commitments of the Government.
'' We thank all stakeholders and the Office of the President which crafted the idea to come up with such a company. We will work with Small to Medium Enterprises to promote Innovation meant for us to procure products to feed in desk tops, laptops and all the other ICT gadgets.''