PAV Banjul Correspondent Nominated Media Personality Of The Year in Gambia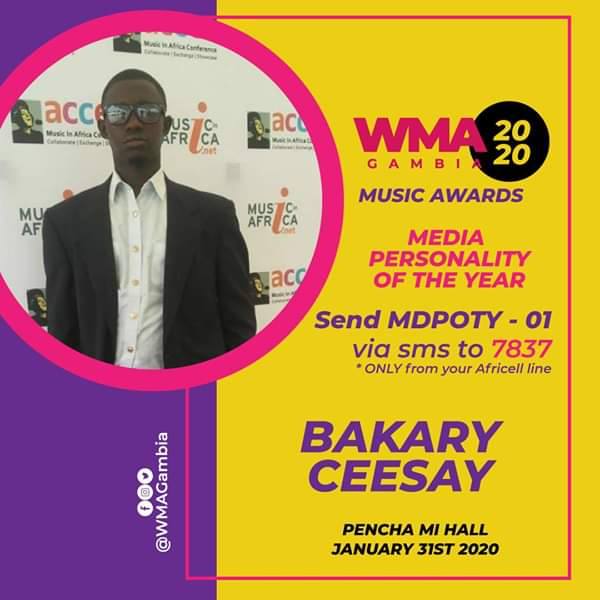 Bakary Ceesay, correspondent of Pan African Visions in Banjul, Gambia, has been nominated as Media Personalty of the year in The Wah Sa Halat Music Awards Gambia scheduled to take place on 31st January at Penchami Hall of Paradise Suite Hotel.
Ceesay, one of the Gambia's finest entertainment journalists is been nominated along Sally Jobe, anchor of Playlist at Kerr Fatu, Delz Campbell, anchor of GamVibes at QTV, Foday Jawara, alias Master Fo, anchor of 360 Show at Paradise Fm and Isha Elizabeth, Entertainment anchor at Block TV Gambia.
The awards are usually organised by Brand Plus to reward artists, producers, video directors and media practitioners who work extremely well on their songs and video events.
Reacting to his nominations, Ceesay, who has done public relations for many Gambians artists, event organisers and promoters said: "I felt honor to be recognised as Media Personalty of the year in 2019, after working with all the prominent Gambian artistes in their shows with huge turn outs"
"This nomination means a lot for me since the journey to contribute my quota in the music industry started seven years ago and the skepticism that many hard has given way for optimism and growing believe in the potential of Gambian music and this challenges me to work harder ," Ceesay said.
He explained that seven years ago he took upon himself to promote Gambian music through the media with the motivation needed to tell stories about the rise of Gambian Artists to stardom.
He added that it took him sleepless nights in covering live music concerts and walking home for several miles .
He urged young journalists to have a keen interest in the area of arts and entertainment because there are lots of stories that need to be told worldwide on the talents of Gambian artists .
"This nomination is dedicated to The Voice Newspaper, Music in Africa, Block TV Gambia The Monitor Newspaper and Pan African Visions who gave me the platform to expose our talents across the globe. To my colleagues nominees ,we are not in a competition but we are all winners at the end of the day," Ceesay said.