NIGERIA'S BID TO BOOST INVESTMENT SET FOR ANALYSIS IN NEW REPORT
Abuja Chamber of Commerce and Industry signs first-time MoU with Oxford Business Group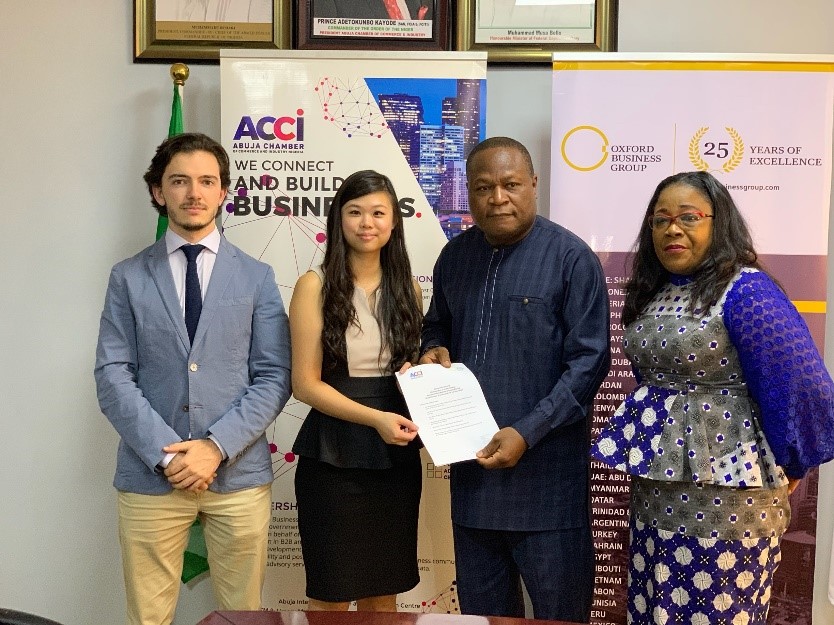 Abuja, January 2020: Nigeria's efforts to liberalise its economy and increase foreign investment will be explored in a new report by the global research and advisory firm Oxford Business Group (OBG).
The Report: Nigeria 2020 will look in detail at the country's plans to enhance its business environment by improving the regulatory framework currently in place and reducing bureaucracy.
There will be detailed coverage of the sectors of the economy identified as ripe for growth, including real estate, mining, agriculture and ICT, which are combining to help drive non-oil activity.
The Report: Nigeria 2020 will also shine a spotlight on the Africa Continental Free Trade Area (AfCTA), as the initiative enters its operational phase. OBG will consider both the potential for regional growth that the free trade area holds and the challenges that risk delaying its progress. Readers will also find analysis of the opportunities that the AfCTA could signal for Nigeria, which was one of the last countries to sign the agreement.
The Abuja Chamber of Commerce and Industry (ACCI) has signed a first-time memorandum of understanding with OBG for its forthcoming publication. Under the agreement, the ACCI will help OBG in its research for The Report: Nigeria 2020 and other content that will be made available across the Group's platforms, which is expected to include charting the economic expansion under way in the capital city of Abuja.
Prince Adetokunbo Kayode, President of ACCI, said he looked forward to teaming up with OBG for its forthcoming report, which he said came at a time of heightened economic activity in Abuja.
"These are significant times for the Federal Capital Territory and Abuja in particular, which continues to attract investment for a wealth of projects across the economic sectors," he said. "Oxford Business Group's reports on emerging markets are known to be leaders in their field, providing investors with accurate, reliable data which can sometimes be difficult to come by. I have no doubt that its report on Nigeria's evolving economy will serve as a valuable tool for business leaders keen to participate in the next phase of the country's development."
Abuja-based Country Director Wen Qian Chang agreed that efforts to attract investment for large-scale infrastructure and real estate projects in Abuja against a backdrop of rapid urbanisation were gathering pace.
"The Abuja Chamber of Commerce and Industry plays a key role in promoting economic and industrial development within the Federal Capital Territory and highlighting the investment opportunities available in this rapidly developing city," she said. "I'm delighted that our team, and ultimately our readers, will benefit from the chamber's input as we begin the next phase of our research for this timely report."
The Report: Nigeria 2020 willmark the culmination of more than 12 months of field research by a team of analysts from Oxford Business Group. It will be a vital guide to the many facets of the country, including its macroeconomics, infrastructure, banking and other sectoral developments.
OBG's publication will also contain contributions from leading representatives across the public and private sectors. The Report: Nigeria 2020 will be produced with the ACCI, the Lagos Chamber of Commerce and Industry and the Nigerian Investment Promotion Commission. It will be available online and in print.
Click here to subscribe to Oxford Business Group's latest content: http://www.oxfordbusinessgroup.com/country-reports
About Oxford Business Group
Oxford Business Group (OBG) is a global research and advisory company with a presence in over 30 countries, from Africa, the Middle East and Asia to the Americas. OBG is a distinctive and respected provider of on-the-ground intelligence on the world's fastest growing markets for sound investment opportunities and business decisions.
Through its range of products – Economic News and Views; The OBG Business Barometer CEO Survey; OBG Events and Conferences; Global Platform, which hosts exclusive video interviews; The Report publications – and its Consultancy division, OBG offers comprehensive and accurate analysis of macroeconomic and sectoral developments.
OBG provides business intelligence to its subscribers through multiple platforms, including its subscribers, CNKI, Dow Jones Factiva subscribers, the Bloomberg Professional Services' subscribers, Refinitiv's (previously Thomson Reuters) Eikon subscribers, and more.
For more information, please contact:
Marc-André de Blois
Director of PR and Video Content, Oxford Business Group
E-mail: mdeblois@oxfordbusinessgroup.com
| | |
| --- | --- |
| 802 Publishing Pavilion, Production City PO Box 502 659 Me'aisem First Dubai UAE T +971 4 426 4642 F +971 4 426 4641 | 6th Floor 105 Victoria Street London SW1E 6DT T +44 203 457 2825 F +44 17 3026 0274 |