Likely trends in 2020 for Ghana as EIU predicts a closely contested election.
By Ahedor Jessica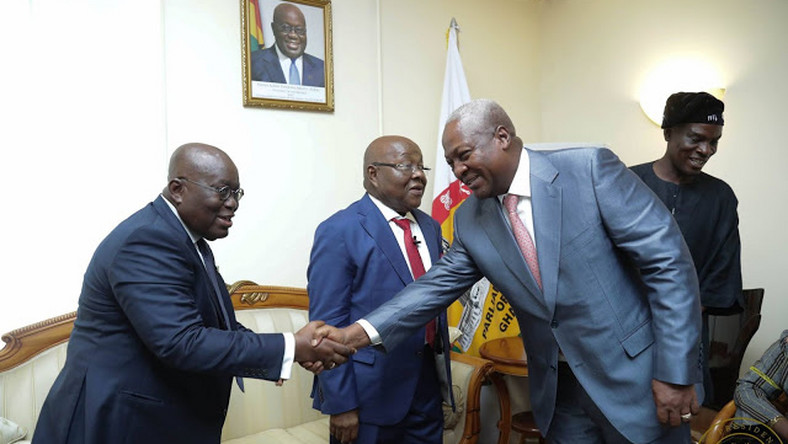 With 11 months to go into the polls, Ghana is at the crossroad to have its democracy tested again. As a country touted to be a beacon of democracy in Africa, many predictions have come to the fore as the country prepares for the elections. As to whether the incumbent will retain power or not is the sole decision of the electorates.
The latest Economic Intelligence Unit (EIU) report has ruled out the possibility of an upset in the 2020 general elections especially with the main opposition party National Democratic Congress (NDC) suffering one million deficits in the 2016 presidential elections. According to the report, the governing New Patriotic Party (NPP) led by President Nana Akufo-Addo will retain power come to the 2020 polls.
"Our forecast that the 2020 polls will be won by the NPP government remains unchanged'' parts of the report read. Using Ghana's improved macroeconomy as its lenses into the 2020 elections, the EIU says "it will be difficult for the NDC under Mr. John Dramani Mahama to portray itself as the better custodian of Ghana's economy" Since handing over a real GDP of 3.5 in 2016 to NPP management, Ghana's economy has recorded 6.3 in 2018 and is predicted to finish 2018 on 6.4 before dipping to 5.5 in the election year, the EIU predicts.
However, the report mentioned, the weakness in the NPP election machinery, highlighting voter apathy and a disgruntled base who may feel left out on political opportunities as 123 ministers remain the main beneficiaries of these opportunities, creating a course to be worried if the NPP parliamentary primaries are not well managed it may lead to disaster. The report added the NDC needs to present a "coherent opposition" and target the "unfilled campaign promises" of the NPP mainly on jobs, in the effect of a focused opposition, the EIU says is that the general elections "could be closely contested"
But the former president John Dramani Mahama, in his New Year message, stated that the 2020 elections would determine the destiny of the country. He added that Ghanaians deserve a government that does not give excuses but rather gives results. The year 2020 is an election year, and the eyes of the world would continue to be fixed on us, as we go to the polls. We need to meet the high standards set by previous Electoral Commissions and even better it. "I do not say it lightly when I say that the 2020 election will be a pivotal event for our country. It is one that will determine the destiny of our nation. I believe at this critical stage in our nation's life, Ghanaians deserve more than ever -a government that is honest and truthful with them. A government that takes responsibility and gives them results, not excuses or blame.
The flagbearer of the National Democratic Congress (NDC), Mr John Dramani Mahama, has reproved the Jean Mensa-led Electoral Commission (EC) to maintain the high professionalism given to her by her predecessors as the EC cannot afford to fail.
On his part, the incumbent President of the Republic of Ghana Nana Akuffo Addo remains resolute and has urged Ghanaians to work hard with determination and embrace the growing sense of confidence repose on the country for greater heights in 2020 and beyond. The optimistic President says 2020 promised to be a year of good fortunes while addressing Ghanaians in his New Year message in Accra.
He asserts the election 2020 will be delivered as usual by the people who have seen the tremendous work of his administration and retain him in power. Pan African Vision's Jessica Ahedor has been sampling views of Ghanaians ahead of the elections to ascertain the veracity of how they feel about developments. Kofi Tawiah is an artisan at Achimota says from all indications it was clear, Ghanaians are resolved to either change government or not to vote at all because we don't know who is telling us the truth. On her part, Lucy Twum is a petty trader at Kwame Nkrumah circle in Accra also said things have turn from bad to worse and 'I will not worry myself to go and vote''. They lamented in what they describe as worse of what they had experienced under John Mahama administration.
It was clearly stated by many who share their thoughts that, the previous Mahama government was removed from power in 2016 based on "corruption, unemployment and high cost of living". Hence, they needed a leader who will put an end to the numerous misappropriations of funds being experienced as a country and also create jobs for the teaming youth.
Their decision to change government was thought to be the panacea for the populace as their expectations were gazed at a vibrant economy where things will work for everyone. Three years into the administration of the Nana Addo's government, many citizens are amazed at the level of corruption, mismanagement and deceit.
Speaking to Dr Hayford of Caucus for Democratic Governance, Ghana (CDG-GH) he argued that Ghanaians are aware that the current government has killed more jobs than he has created if any at all. "There have been many job losses since they took over in 2017. In May to August 2018, not less than 10,285 job losses were recorded, the highest unemployment rate in the history of Ghana, within that period, Workers with the EIB Network, Group Nduom experienced at least 3000 job lose; Textile Workers 235; BXC Company Limited 200; Rider Steel Company 400; Goldfields Ghana 1,500; Consolidated Bank Ghana; Vodafone Ghana 2,000 and Oil Marketing Companies also to the tune of 4,000 job lost.
Besides about 20,000 people have also lost their jobs directly due to 420 financial institutions that have been shut down." On corruption, the current NPP government on monthly basis have experienced scandal such as NAM 1, PDS, collapsed Banks, PPA, unemployment and high cost of living etc. The high cost of living – Ghanaians put is as simply as Mahama's time, a litre of petrol was GHc3.6 but today under Nana Addo we are buying petrol GHc5.2 per litre. Dollar during Mahama's time was 4.1 but today under Nana Addo, a dollar is 5.47. Things are too hard, Mahama's time was far better.