Kenyans criticize government for blocking the exiled lawyer
Samuel Ouma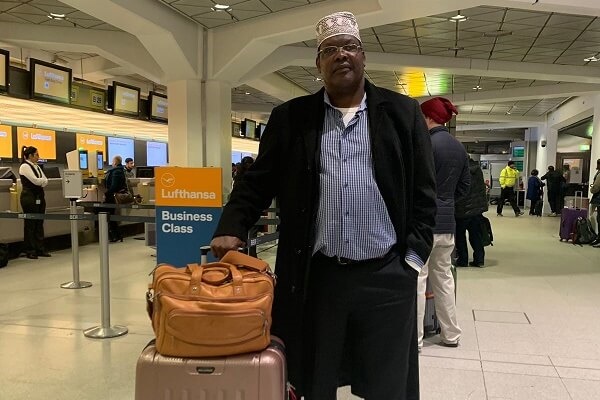 Kenyans on Tuesday, January 7, took a swipe at their President after it emerged that the exiled lawyer Miguna Miguna was barred from returning to the country.
Speaking to the local radio station on Tuesday morning, the vocal barrister revealed that he was barred from boarding a flight from Frankfurt, Germany to Nairobi. According to Miguna Miguna, the office of President Uhuru Kenyatta issued red alert to Lufthansa Airline warning them against flying him to Nairobi or any other African country.
"I am at the Lufthansa check in and they are saying the Kenyan security has blocked me from entering Kenya. In fact, the Kenya Government has demanded that Lufthansa must refund my fare. They have demanded that Lufthansa should not fly me into any other African country, either," he said.
He further revealed that the airline management told him that he would be allowed on board only if they receive official communication from the government revoking the alert.
"Lufthansa flight manager is saying that the Government of Kenya must send an official communication to Lufthansa at Frankfurt office before I can be allowed to fly to Kenya or any other African country," he added.
This comes one day after the country's High Court directed the government to allow the lawyer back to the country terming his deportation illegal. The court further ordered the release of his Kenyan passport which is currently under the custody of court's registrar.
"An order be and is hereby issued, that pending and following the inter-partes hearing of the Application, compelling the Respondents to facilitate entry of the Petitioner into Kenya on January 7, 2020 or any other date appointed by the Petitioner on the basis of his identification through the use of his National Identity Card, or his Kenya Passport in the form and state it was delivered by the Respondents to the High Court Registry pursuant to this Court's Order," reads court's verdict.
When the news about Miguna Miguna's woes at Frankfurt reached Kenyans, a number of them took it to the Social Media accusing President Uhuru of being a despot. They claimed the government is wrong to bar the attorney from returning the country despite being a Kenyan by birth.
"The Government of Kenya stopping a Kenyan citizen by birth from entering Kenya but can't stop terrorists from crossing over to Kenya. Pure madness. Uhuru Kenyatta is officially a clown of the decade," said Dorcas Sarkozy.
"President Kenyatta must stop the monkey games with #MIGUNAMIGUNA . The court spoke and the law is clear. Miguna is a Kenyan. We must defend the rule of law even if your enemy is the recipient," reiterated Rein Asamoh.
Another one added, "I'm disappointed this morning. There is nothing to smile about. Why allow miguna start his journey from Toronto then cut it off? #MigunaMiguna a solder is always a fighter to the end."
Miguna Miguna holds dual citizenship both of Canada and Kenya.