Gambia:Foreign Minister Dr. Tangara meets Chinese Ambassador
By Bakary Ceesay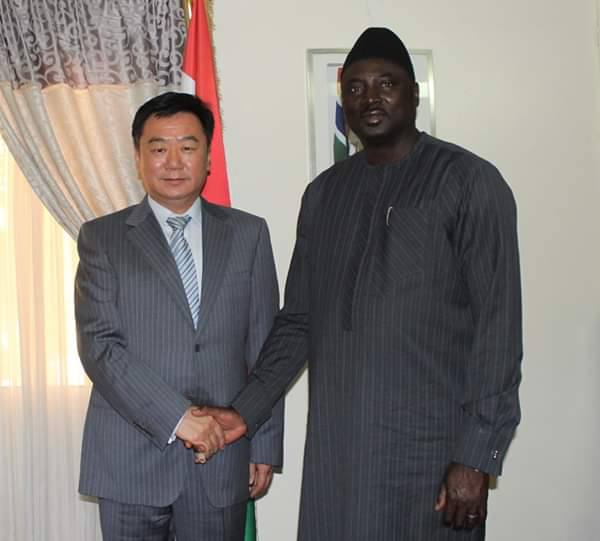 The Minister of Foreign Affairs, International Cooperation and Gambians Abroad, Dr. Mamadou Tangara, on Monday 13 January 2020 received in his office the Ambassador of the People's Republic of China, His Excellency Ma Jianchun.
As part of their continuous support to The Gambia, the Chinese Government has constructed the 50 million dollar state-of-the-art International Conference Centre which was inaugurated by His Excellency the President Adama Barrow on the 11 December 2020. The new International Conference Centre is called "Sir Dawda Kairaba Jawara International Conference Centre" named after the country's First President and Founding Father, the late Sir Dawda Kairaba Jawara.
The Honourable Minister used the opportunity to inform Ambassador Ma that The Gambia is happy and proud of its cooperation with the People's Republic of China. He said The Gambia will invariably stand beside China and has recognised and is also committed to the One-China policy. Minister Tangara thanked Ambassador Ma for the support given to The Gambia which goes a long way in fulfilling the goals set by the Government of His Excellency President Adama Barrow.
For his part, Ambassador Ma reminded the Honourable Minister that this year marks 20 years since the establishment of Forum on China-Africa Cooperation (FOCAC). Ambassador Ma assured Dr. Tangara of his country's unflinching support towards the realisation of objectives set in the FOCAC cooperation.
Ambassador Ma expressed China's delight at the naming of the International Conference Centre after Sir Dawda Kairaba Jawara, highlighting that the legacy of Sir Dawda should be well kept.