Gambia Women's Volleyball Team eyes gold at Olympic Qualifiers in Guinea
By Bakary Ceesay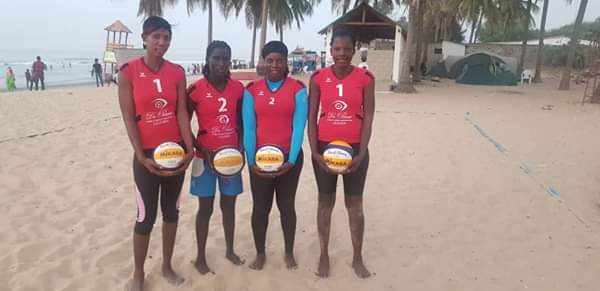 The Gambia Women Beach Volleyball Team will head to Guinea Conakry this week for the Zone 2 Olympic Games qualifications that serve off on January 8th through 12th 2020.
Abi Kujabi, the team captain says they have been training very hard for the task ahead and optimistic that their commitment and hard work will not go in vain.
"It's obvious that we are bringing home the gold medal from Guinea and nothing can change that" says the 29 year old defender.
However, head coach Pa Barrow remains optimistic that the women team will weather the storm and claim Gold at the Zone 2 Olympic qualifiers.
"We will be using the Olympic qualifiers in Guinea for experience and finding out what we need to work on before the Olympic Games in Tokyo come 2020, the coach said.
Mariatou Gitteh who recently join the national team and is part of the pairs that will represent the country in Guinea for the Olympic qualifiers, showed her excitement for getting the national call up and stated that it's a huge responsibility that she holds with high standard and will do her best to perform up to expectations.
"I'm so proud to be part of this winning team and there is no doubt that we bringing home the gold medal" says the elated Mariatou.
Fatou IF Colley is the team accompanying referee to the Zone 2 Olympic qualifications.
The Olympic qualifiers will start on January 8th through the 12th 2020 in Guinea Conakry.
Team Delegations: Abi Kujabie, Saffie Sawaneh, Fatoumatta Ceesay and Mariatou Gitteh.
Officials: Pa Baboucarr Barrow Coach, Lamin Suwareh Head of Delegation and Fatou IF Colley Referee.