Backlash forces EU To Cancel release of Malawi elections report
By James Mwala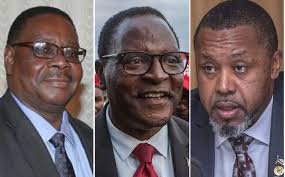 The European Union has made a u-turn on a planned presentation of a report on Malawi's 21st May 2019 election following a public uproar over the development.
The EU had announced a week ago, that its delegation was headed for the Southern African nation to release it's observatory report on the election which Peter Mutharika won.
However, Mutharika's win is being contested by arch rivals Malawi Congress Party's Lazarus Chakwera and former Vice President Saulos Chilima of the UTM.
The two petitioned the constitutional court to nullify the elections citing annomalies most of which dwelt on theories that Mutharika's Democratic Progressive Party flouted the electoral body's systems to alter the results.
The court is expected to make a ruling on the case having had about 60 days of hearing various evidence and submissions.
However, the EU announced it was making a presentation of the same, a thing that raised an alarm among sections of the society.
On its part, the Malawi Law Society described the move as ill timed and that it came at a rather wrong time when all eyes on the same poll are on the courts.
On the other end, Chilima and Chakwera both said they would turn down the planned meeting with the EU delegation.
"Our stand is that the intended presentation of the report is careless and amounts to extra-judicial gimmick to meddle with and influence pending litigation. I condemn this in strongest terms," said Chilima whose fallout from the DPP saw him rival Mutharika with his newly founded party the UTM.
Some social media users questioned what situation would be created if the findings of the EU mismatch with those that the constitutional court is slated to make.
This then forced the EU to announce in a statement two days later that it would only publish the findings after the ruling in made in court.