Anglophone crisis in Cameroon: CHRDA Releases Pamphlet to educate combatants in armed conflict
By Boris Esono Nwenfor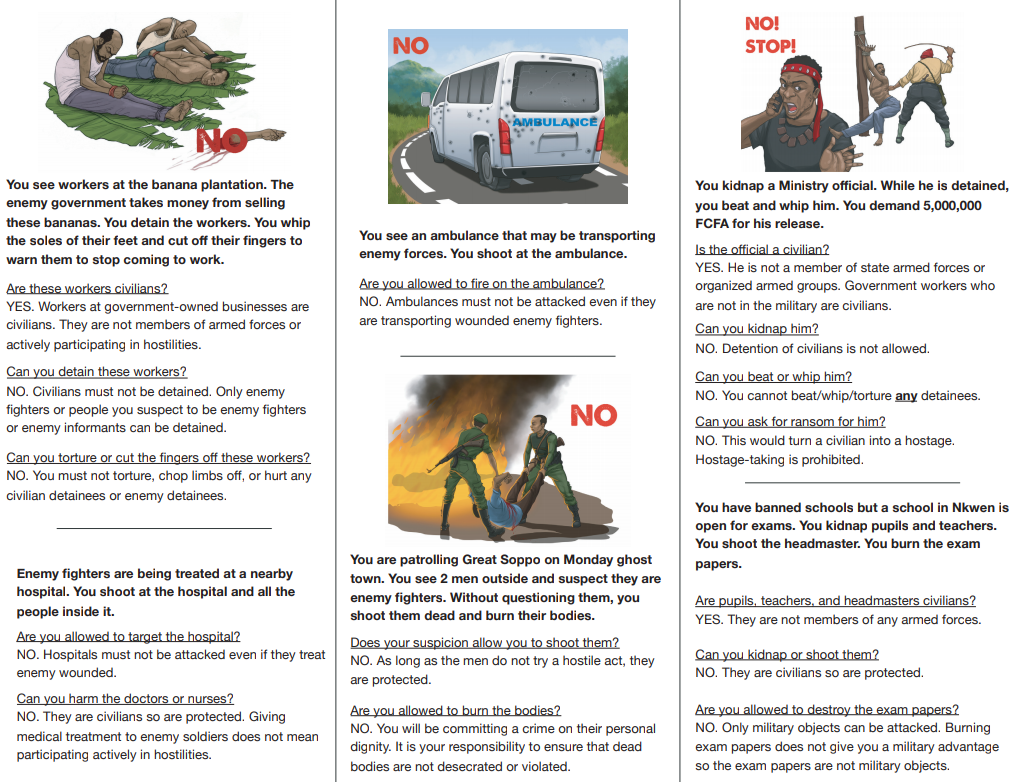 Since the crisis escalated in 2016, both parties to the conflict have committed gross human rights abuses according to reports from major international human right bodies The Anglophone Crisis affecting Cameroon's North West and South West Regions has caused immense physical harm and psychological suffering to the civilian population, including women and children.
The Centre for Human Rights and Democracy in Africa (CHRDA) believes that some combatants are performing these violations without knowledge. Thereby, they have taken it as a responsibility to educate combatants on International Humanitarian Law in times of conflict.
The pamphlet titled "A tool to educate combatants on international humanitarian law during armed conflicts" details acts which are not permissible in a war situation.
"The pamphlet does not condone or promote violence. Just because a violent act is not described in this pamphlet does not mean it is permissible," the pamphlet read in part.
This pamphlet, containing ten question and answer scenarios will be translated to Pidgin and French, to extend the campaign across all warring parties. The pamphlet will also be recorded in an audio format and circulated on WhatsApp, to communicate the message to all combatants and breach the gap of those who cannot read, CHRDA stated.
The pamphlet notes that the burning of humanitarian aid is prohibited. It equally indicated that government workers who are not in the military are civilians and cannot be harmed or kidnapped. This comes as persons linked to government officials have been kidnapped for ransom, whipped and beaten. All these acts according to CHRDA do not sit well in a war situation.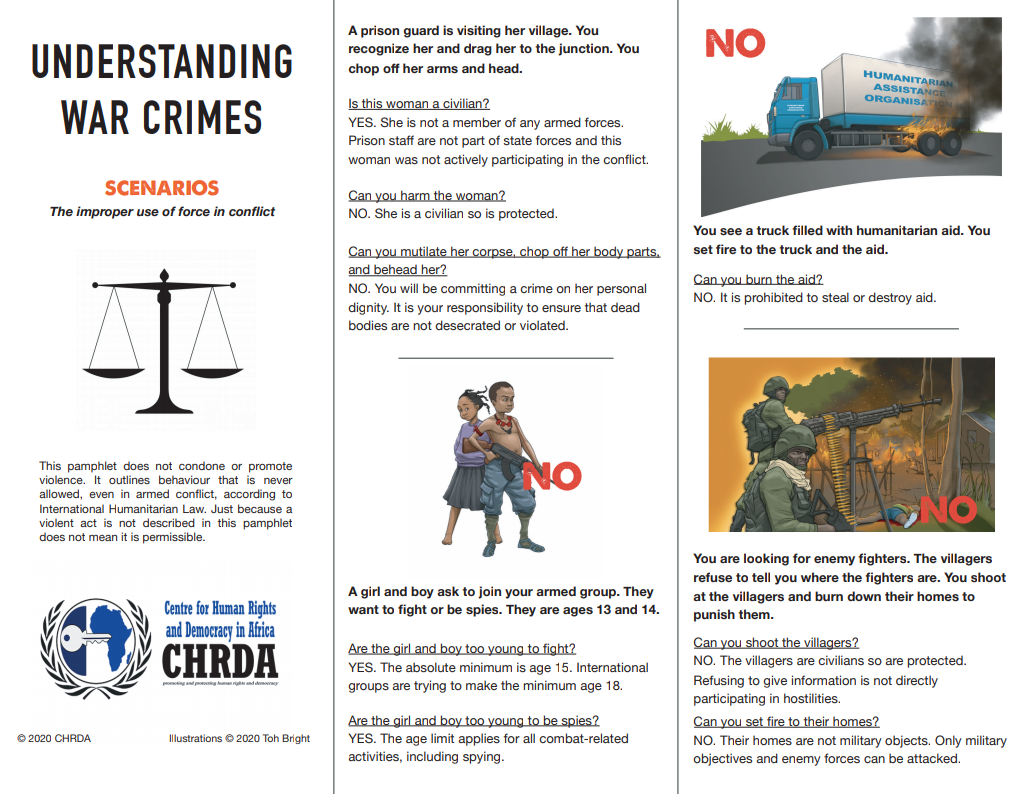 CHRDA equally notes that no ambulance is to be attacked, even if they are transporting wounded enemy fighters.
It should be noted that CHRDA will also soon launch a longer handbook on war crimes and International Humanitarian Law, from which warring parties and educational institutions alike may benefit, in line with their human rights mandate. The purpose of this handbook is to further educate combatants and others on violations of international human rights codes in times of conflict. It contains nearly 50 scenarios based on actual incidents from the ongoing armed conflict in Cameroon's Anglophone regions.
Cameroon's ongoing Anglophone Crisis has resulted in over 3,000 people killed, more than 656,000 internally displaced persons, over 50,000 registered refugees in Nigeria, and thousands of asylum-seekers roaming the world. It is crucial to diminish violent human rights abuses, so that, non-violent paths toward justice and peace may take place.