Zimbabwe : More headache for Mnangagwa with Food crisis
By Nevson Mpofu Munhumutapa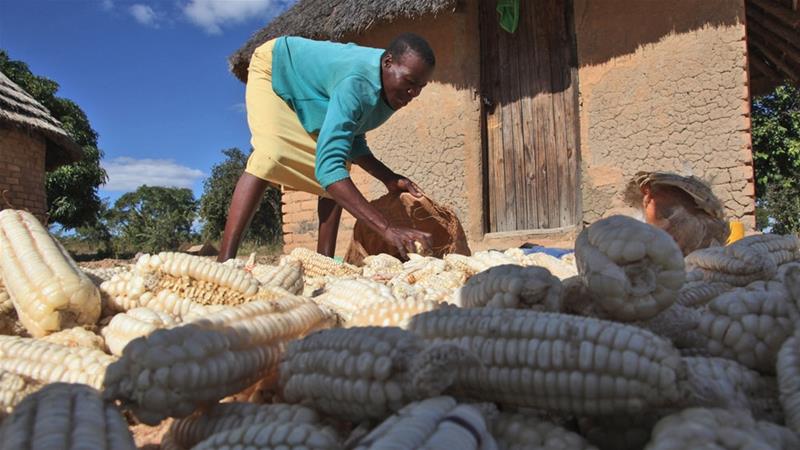 Zimbabwe—-Fast rising bounty of thorny challenges continue to cling Mnangagwa's wings o victory over Zimbabwe's economic challenges. In place as of now, at least 4,1 million people are in severe hunger out of 5,I million who need urgent food aid by next year .
Prior to mid-2019 before beginning of November, Inflation had risen to Hyper-Inflation forcing a strong push on the increase of bread which now costs ZW 15 dollars / bonds. Fuel rose to ZW 18 dollars/ bonds. Other basic commodities rose up suddenly with a surprise bang pushing the family food monthly basket to ZW 3000 dollars/ bonds.
One such new challenge of millions of people in need of food compelled ED Mnangagwa to make U-Turn on scrapping grain subsidies.
''We can-not no-longer remove grain subsidies. I am restoring it so that price of mealie-meal is reduced. Mnangagwa briefly said to the Public Media a Week ago.
Economic Experts note if these subsidies would have been removed, the price of mealie meal would have quite gone higher than ever. He even touched on other basic commodities. The Expert further says leadership of the country is now completely lost.
''The price of 10kg of mealie-meal could have risen to ZW$ 100 bond/dollars. The country is in serious crisis. The situation is making people go suffer continue without a halt. By beginning 2020, the Economy will have crumbled by 6, 5%. People had pinned hope on ED Mnangagwa , alas its disastrous. ''
''Mnangagwa Government is quite truly in wave of new crisis owing attention to situations on ground. Everything is collapsing to shambles. Prices have gone higher ever. Poverty Indexes are not even known as we talk. Vulnerability assessments are long back forgotten. Inflation is high every day. The figure are confusing. Basic commodities, not reachable, there is real crisis '', he concludes.
UN Promises Rescue…
World Food Program Country Representative notes that the country is in crisis with the increase of people in need of food aid.
''At least 4, 1 million people are in need of food aid. UN is promising to disburse 240 tons of food. Maize from Tanzania and some food as well from Mexico and the Black Sea Region.
Hilal Elver a visiting UN Human-Rights Expert pointed out before leaving the country last week. The once bread-basket of SADC is in quite a real crisis, drought, hunger, flood, inflation.
'' The once bread-basket of SADC -, Zimbabwe is on the brink of man-made starvation.'' She observed.
Pan-African-Visions caught up with the UN Expert who added that there are almost 5,5 million people in need of food aid . She further pointed out that the figure by next year will be much higher on top of other burning challenges disintegrating the Economy.
''This means we have to rely on a strong budget. Our partners have to come together as one to over-see on the crisis hitting the country. This is new crisis on top of challenges', she said.
Mnangagwa faces daunting challenges he and his Ministers can-not restore. This has made his name lose touch with confidence of the people. Pinning hope continues to fall as the country turns its civilians to harsh, painful and thorn challenges, poverty and vulnerability. New on top of inflation drought and hunger cascading to famine is hard to swallow.