Rasha Kelej Honoured for her poignant 'More Than a Mother' Campaign
By Prince Kurupati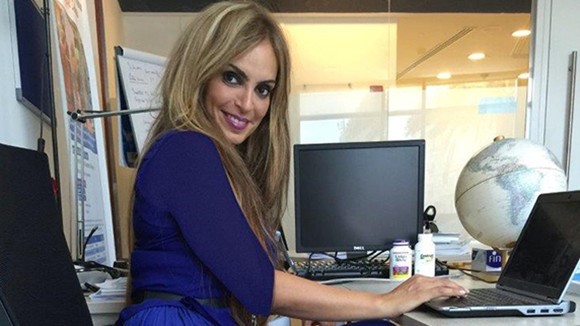 Egyptian born Rasha Kelej was recently honoured by New African Magazine for her poignant More Than a Mother Movement, which has touched many hearts.
New African Magazine at the end of each year releases a list of the 100 most influential Africans who would have done remarkable work in their field of work. New African Magazine's 100 most influential Africans project has been running for several years now and in the 2019 edition, it rightly recognized Rasha Kelej, the Egyptian who took it upon herself to break the stigma around infertility and empower infertile women.
Rasha's story dates back to 1972 when she was born. Growing up in a world in which she saw many people being stigmatized and discriminated at due to what the society termed 'undesirable', a passion to break some stigmas began to develop in her at such a young age. After completing her basic education, Rasha proceeded to Alexandria University where she pursued a degree in Pharmacy. Afterwards, she proceeded to study for an MBA from Robert Gordon University, Scotland on Corporate Social Responsibility (CSR) Integration with Business Strategy.
Having completed her education, Rasha in 1994 joined the International Pharmaceutical industry where to date; she has over 25 years of experience. Rasha has spent the majority of her time in the pharmaceutical industry working for the German nonprofit organization Merck which she joined in 1996 serving in different roles.
Adding to her pharmaceutical work, Rasha has also undertaken many leading commercial roles at Merck including serving as the Chief Social Officer and Head of Global Social Responsibility & Market Development. Currently, Rasha is the Chief Executive Officer (CEO) of Merck Foundation, a division of Merck Germany tasked with combining many of Merck's corporate responsibility activities under one roof. Merck's corporate responsibility activities primarily aim to support and further interests in healthcare, education, citizens' initiatives, development cooperation and intercultural understanding.
Combining her two roles, that is, pharmaceutical and commercial, Rasha has managed to successfully use her job to establish many uplifting women programs. The numerous programs that Rasha spearheaded since 2013 centering on healthcare capacity, raising community awareness, breaking the stigma of infertility, and empowering women and youth through education and STEM led to the development and formation of Merck Foundation, the philanthropic arm of Merck Germany.
Some of the programs spearheaded by Rasha include Merck STEM for women and youth, Merck Foundation First Ladies Initiative (MFFLI), Merck Cancer Access Program, Merck Capacity Advancement Program and Merck More Than a Mother. Out of all these programs, it is the historic campaign 'More Than a Mother' which has enjoyed much success.
The success of More Than a Mother movement stems from the very nature of the movement itself, that is, its objective, goal and vision. The main aims which led to the formation of Merck More Than a Mother campaign were to empower the childless and infertile women through access to information, health, change of mindset and economic empowerment. The campaign also aims at raising awareness about male infertility.
To ensure the success of More Than a Mother campaign, Rasha successfully established strong partnerships with 18 African First Ladies including those from the Central African Republic, the Gambia, Chad, Niger, and Guinea as Ambassadors of More Than a Mother campaign in their countries. In addition to 'recruiting' First Ladies as ambassadors of the campaign, More Than a Mother also works with Ministries of Health, not for profit organizations, media, local societies, academia, and gender departments of various African countries.
Together with its partners, More Than a Mother undertakes different initiatives in African societies with the sole aim of breaking the stigma around infertility in the same vein empowering infertile women. Some of the initiatives include hosting Film Awards, Fashion Awards, Media Recognition Awards, Health Media Training as well as collaborating with musicians in developing African songs that aim at breaking the stigma of infertility in various societies.
The success of the More Than a Mother campaign has led women like Grace Kambini, a Kenyan infertile woman to share her story of stigmatization with the world with the intention of changing the narrative that infertility is something to be shunned upon. In an interview, Kambini said that "If I have half of the knowledge back then I would have sorted a lot of issues that were there back then and today things would be different. I encourage all girls who are experiencing issues bearing children to go to hospital together with their spouses to seek for treatment." Kambini was rejected by her husband and in-laws after nine years of being childless.
Rasha's More Than a Mother campaign has not only received recognition from the New African Magazine; she has also been recognized by Spain which awarded her a Women Empowerment Award, International Federation of Business and Professional Women as well as various accolades from African governments.
Data from the World Health Organization (WHO) states that more than 180 million couples in developing countries (equating to one in every four couples) suffer from primary or secondary infertility. In the case of sub-Saharan Africa, infections account for infertility of 85 percent of women compared to only 33 percent worldwide. This, therefore, shows the importance of infertility prevention programs in Africa hence the extreme importance of Rasha's More Than a Mother campaign.