Obi Ozor Scoops Two Awards as 'Young Business Leader of the Year' & 'Innovator of the Year'
Logistics Leader Secures Accolades at the CNBC All Africa Business Leaders Awards [AABLA] 2019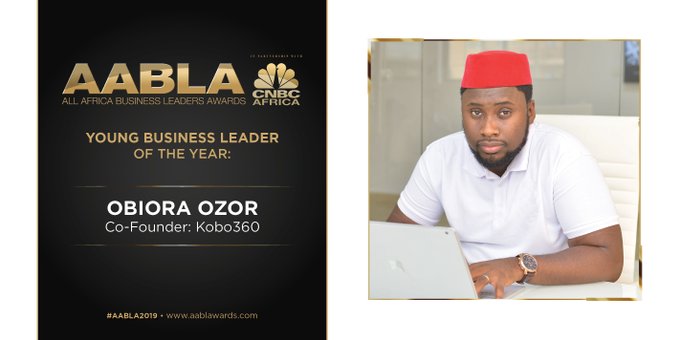 Lagos, Nigeria. December 6 2019. Co-founder and CEO of Kobo360, Obi Ozor, was last night named 'Young Business Leader of the Year' and 'Innovator of the Year' at the 9th All Africa Business Leaders Awards [AABLA] in partnership with CNBC Africa in Johannesburg, South Africa.

With over six years of logistics and supply chain experience, Obi Ozor, manages all key aspects of Kobo360 including operations, investments, compliance risk management and product growth. Prior to founding Kobo360, Obi was the Operations Coordinator at Uber Nigeria; his career also saw him work in investment banking at J.P. Morgan. In 2016, Obi left Uber and with his Co-founder Ife Oyedele II, Kobo360 was launched in a bid to disrupt Africa's $150bn logistics sector through the power of technology. Since then, the team has raised $37.3m in institutional investment from global VCs, as well as build a truly pan-African logistics brand.

Speaking on the double win, Kobo360 co-founder and CEO, Obi Ozor says, "I am extremely honoured to be the recipient of the 'Young Business Leader' and 'Innovator of the Year' awards, and grateful to CNBC Africa for supporting the Kobo360 narrative over the years as well as bringing Africa stories to Africans and the rest of the world.

"Our story is one which young business leaders can resonate with – turning African problems into African opportunities, for the benefit of the entire continent and its people. However, in the logistics sector, our focus has not been exclusive to one group of people. Kobo360 is for our drivers, it is for SMEs and it's also for major businesses who need to move goods. These are groups who have all felt the pain points of the current fragmented logistics sector and we are continuously committed to innovating around their needs."

Backed by international and African investors, including Goldman Sachs, International Finance Corporation [IFC], Y Combinator and TLcom, Kobo360's tech-enabled full truckload offering enables the development of an efficient supply chain for end-to-end long-haul freight operations, connecting and supporting cargo owners, truck owners & drivers, and cargo recipients at scale. To date, the company has moved 500Mkg of goods, aggregated a fleet of over 17,000 drivers and trucks, and services over 600 SMEs and works with over 80 large enterprises such as Dangote Group, DHL, Unilever, Olam, African Industries, Flour Mills of Nigeria, and Lafarge. With operations in Nigeria, Togo, Ghana and Kenya, the e-logistics company is building a Global Logistics Operating System [G-LOS] that will power trade and commerce across Africa and emerging markets.

Ozor concludes: "Winning this award would not have been possible without the inspiration I have received from my family, my Co-founder Ife Oyedele, the Kobo360 team located across Africa and of course our investors, for whom I have the deepest respect for. We will only get better at what we do and remain committed to building a world-class organisation that will drive efficiency, reliability and affordability across the global supply chain ecosystem."

The AABLA in Partnership with CNBC Africa is an empowerment driven initiative intended to distinguish and uphold the achievements of inspiring corporate front-runners on the African continent. 
Kobo360 is a digital logistics platform that aggregates end-to-end haulage operations to help cargo owners, truck owners and drivers, and cargo recipients to achieve an efficient supply chain framework. Developing an all-in-one logistics ecosystem, Kobo360 leverages data and technology to reduce logistics frictions, empowering rural farmers to earn more by reducing farm wastages and helping manufacturers of all sizes to find new markets. Kobo360 enables unprecedented efficiency and cost reduction in the supply chain, providing 360-visibility while delivering products of all sizes safely, on time and in full. The Kobo360 mission is to build the Global Logistics Operating System that will power trade and commerce across Africa and emerging markets. With operations in Nigeria, Togo, Ghana and Kenya, Kobo360 is one of the fastest growing tech start-ups out of Africa.