Government unveils Urban Mobility Project for Freetown
By Uzman Unis Bah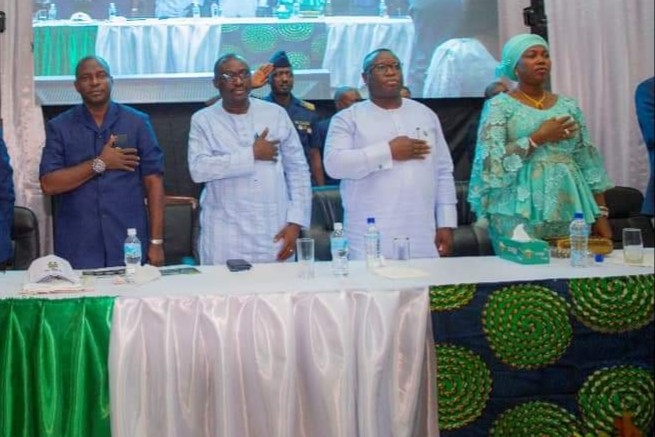 Freetown, Sierra Leone – President Julius Maada Bio has launched the Sierra Leone Integrated Resilient Urban Mobility Project; stressing the huge financial, environmental and health costs related challenges posed by overcrowding in the nation's capital.
"There is a heavy direct and indirect cost to congestion. Alongside our interventions being announced today, it may be invaluable for our government and our development partners to calculate the real monetary value of the cost of Freetown's congestion. That may help us come to terms with its multiple realities and guide strategy and policy," the president said.
"I need not say that a congested city is not good for citizens, not good for tourism, not good for business, and not safe for our women and children. I need not emphasise that traffic congestion diminishes productivity, increases the cost of commuting through increased fuel and operating costs, and has environmental and health implications," President Bio said.
The President Bio affirms that the government is determined to address the current traffic congestion in Freetown. "not only by the construction of new roads" and the widening of others, supplemented with pedestrian flyovers at the busiest urban intersections; but also by employing proven and practical traffic engineering mitigation measures such as the use of actuated traffic light signals, directional traffic flows, channel station. He said.
President of the Sierra Leone Drivers' Union, Alpha Bah, applauded the project, saying that they were excited. He said that the project, among other things, would help to decongest the roads, improve safety for vehicular traffic and commuters. He added that the project would also reduce road accidents, restore better transport service to commuters.
The World Bank Executive Director said that she was excited to witness the official launch of the IRUMP, noting that she was especially pleased because the project looked at resilience of climate change, job creation that was crucial for youth and access to service and road safety in the country.
Sierra Leone's Minister of Transport and Aviation, Kabineh Kallon, said that he was delighted that the President was launching the project as a means of creating awareness to the people of Freetown, and other municipalities across the country.