Gambian Open Mic onstage in Stuttgart
By Bakary Ceesay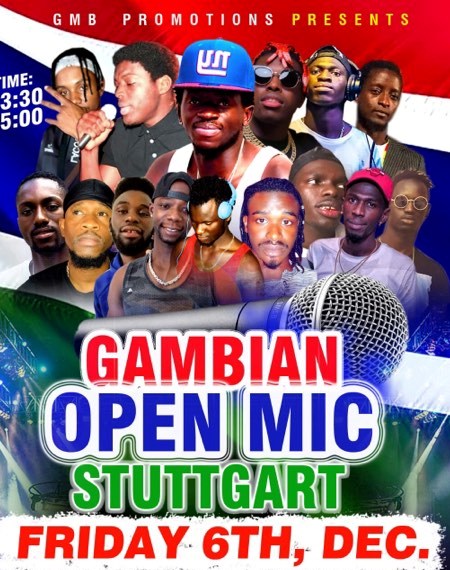 All is set for Gambian open mic in Stuttgart in Germany on 6th December, 2019 at Calwer Eck Club. Organised by GMB promotions it will features dancehall, Afrobeat, reggae and hip-hop and artistes lineup are Stony Vybz , Miller DC, Steven Kelly, 50k Thuger, G Stedda, Mafia Click, Popshea 8.8.1, Great Mind, One Corner, Laminator, Topmind Hallis Kapachaile and Chris Black to be back by deejay Puffy.
Christopher Mendy, alias Chris Black chief executive officer GMB Promotions explained that the concept behind The Gambian open is to scout, promote and harness real talent.
He added that the same way to keep the Gambian artist living in Europe busy on their musical career. GMB promotions been promoting and empowering youth for a decade plus.
"Recently GMB a promotion is the only Gambian label in EU setting trend," the young promoter outlined.
He noted that he want to create a platform that Gambian artistes in Europe will showcase their talent and earned a decent living through their art."We intent to make this as an annual event so we are calling on all artistes to come on board to make this happen, by showing that Gambia has a rich culture that other nationals can learn from," he noted.According to him, part of their plans in future is to inviting Gambian artistes at home to come and perform in the event.
Popularly called Gambian Chris Black pointed out that: "We are determined to entertained, educate by spreading positivity through music".