Gambia:GPU holds National Consultative forum on Community Media Sustainability
By Bakary Ceesay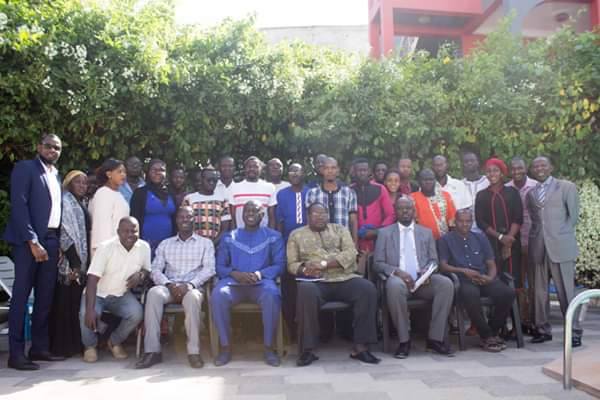 The Gambia Press Union (GPU), in collaboration with the Network for Community Radio Broadcasters, held a daylong national stakeholder consultation forum on Community Media Sustainability.

The event on Tuesday, 17th December 2019, at Seaview Gardens Hotel in Kololi, was part of a project funded by United Nations Development Programme (UNDP).  The project is aimed at promoting community media sustainability by influencing legal and policy reforms and sustainable funding mechanisms.
The forum was attended by 40 stakeholders, including government and civil society representatives.

Speaking on the occasion, Yusupha Bojang, president of Network of Community Radio Broadcasters, said since community radios focus on local issues, they have far more capacity than other radios to enhance development activities at grassroots level.
"Community radios cater for the interest of certain areas, broadcasting content that is popular to a local audience but which may often be overlooked by commercial or mass media broadcasters," he said.

Community media are generally used to support development initiatives by the dissemination of message that encourages the public to support development-oriented projects.
Speaking on behalf of the Director General of Public Regulatory Authority (PURA), Solo Sima said PURA has actively promoted and encouraged the proliferation of community radio stations to the extent that it has waived almost all fees, and relaxed some major requirements related to community radio station applications.

He said as the sector regulator responsible for amongst other things licensing in broadcasting, PURA would continue to create both the legal and regulatory enabling frameworks to ensure that optimal benefits are realised for all stakeholders.

"We at PURA understands the importance of broadcasting sector not only as a mandate but also appreciate the challenges inherent for the sensitivity of information to be broadcasted," Mr Sima explained.

The Minister of Information and Communication Infrastructure Ebrima Sillah said The Gambia government is extremely committed to supporting the media but more so the community radios because "they are extremely important and the government has recognized that".