Gambia: Group Announces Protests To Force Out Barrow
By Bakary Ceesay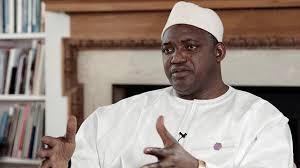 Operation Three Years Jotna, a group of concerned Gambians advocating for three years transitional mandate for President Adama Barrow has revealed that they will stage peaceful demonstration walk from Westfield to State House in Banjul on 16 December, 2019.
The movement has officially written letter to the Inspector General of Police requesting a permit to stage a 'public procession' next month to demand President Adama Barrow step down by honoring the coalition three years transitional agreement.
Recently President Adama Barrow has warned anyone who wants to use illegal means to unseat will face full force of the law
The movement said they will not allow President Adama Barrow to continue until 19 January 2020.
Sheriffo Sonko, Executive Director of operation 3years jotna has said that they are peaceful movement form by the Gambians determined comes out in December and whole leaders accountable for what they have promised during campaigns.
Sonko said that the 3years liberated Gambia from dictatorship and the only plan which happens to usher dictatorship in the country was the 3years coalition agreement.
Sonko stressed that 3years Jotna is not to only calling the President Adama Barrow to respect the 3years coalition agreement but they are also telling him that the power belong to the people.
Sonko pointed out that 3years jotna is a peaceful movement which was form by the Gambian people determined come out in December and whole leaders accountable for what they have told us.
"We are not going to use force. If we live this as a tradition to our leaders, they will do it all the time, leader should not go out and say whether you like it or not am going to stay till 2021 because those citizens voted for you,"
Hagie Suwanneh, spokesperson for the operation 3years jotna said they are on their preparation but all in accordance with peace and the respect of the rule of law.
"We voted for democracy and democracy has to go with certain responsibilities part of them is holding leaders accountable this is what operation 3years jotna believe," he said.
"We wants to make sure that there is legitimacy in our democracy for today and tomorrow, and our politicians should be accountable but with respect and maintain peace and stability, peace is what we preach and advocate,"
He assured that 3years jotna will go out and protest if President Adama Barrow didn't take the necessary steps to honor the promise he gave to the citizens during the 2016 presidential campaign but all with peace.
Momodou Cham, alias MC Cham jnr, Youth President Gambia Democratic Congress (GDC) explained that 3 years jotna is campaign movement that want to remind President Adama Barrow his promises during the campaign.
"We want to stop politician from giving empty promises and deceiving people all the time, I believe that the campaign is in line with the laws and I support the movement,"
Cham, clarified GDC is neutral in this campaign and so far, no political party has officially declared support for the campaign.
"…but it is our constitutional rights to remind the president to respect his promises and stop deceiving the public," he stressed.
Three Years Jotna is a pressure group that was formed last year following President Barrow's sensational about-face. He had in 2016 promised to be in office for just three years but he has changed his mind saying he will now be in office for five years. The group has vowed to ensure he fulfills his three years promise.
It has now emerged the group will hand President Barrow borrowed time of one month to leave State House, which will officially mark the end of a three-year term. Should the president refuse to step aside, the group plans to stage a protest to demand he leaves office, a protest that will be different from the 16 December procession.