Gambia: GPU engages state security agencies on media relation, access to information
By Bakary Ceesay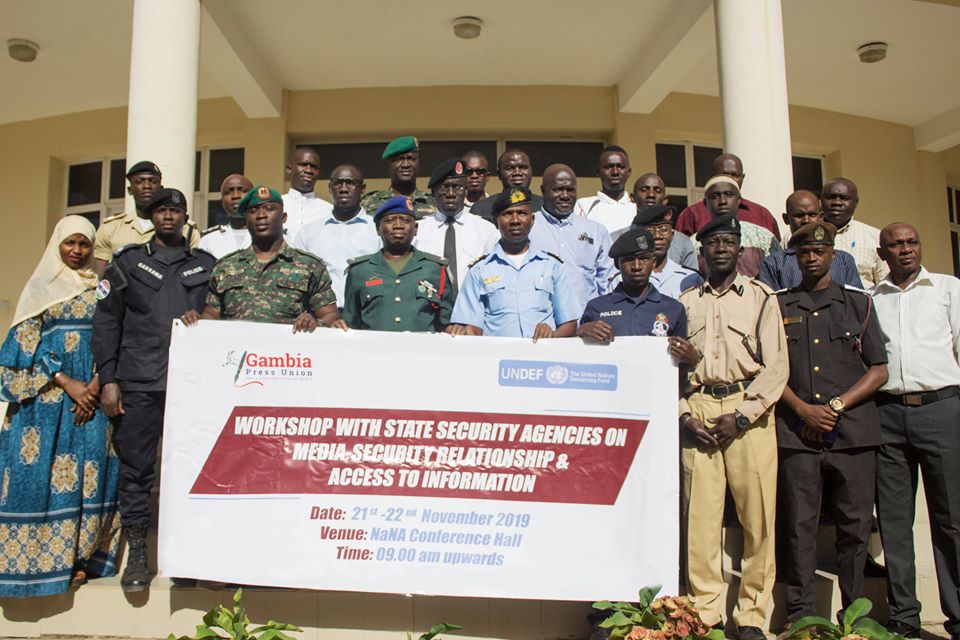 A total of twenty-five state security personnel from the army and navy, police and police intervention unit, prison services, fire and rescue services and other security agencies were engaged on access to information and national security.
The two-day sensitization workshop on Media-Security Relation and Access to Information was held from the 21st to 22nd November 2019 at NaNA conference hall.
It was organised by the Gambia Press Union (GPU) as part of a two-year project it is implementing with funding from the United Nations Democracy Fund (UNDEF).
Speaking at the opening ceremony, Sheriff Bojang Jr, president of Gambia Press Union, said the engagement with security personnel was aimed at demystifying the current misconception that equates the promotion of free media and expression with incitement to violence.
He said the GPU has been engaged in rigorous consultations, sensitization and capacity buildings to change perceptions and influence a change to current laws and practices in favour of free speech.
Mr Bojang expressed optimism that the sensitization with security services would serve as the beginning of a new, smoother relationship between the media and security personnel in national development.
"We hope to smoothen the security and media relationship as they are both partners in development and not enemies," he said. "Security and media are like two intimate lovers with long nose that despite their intimacy they can't kiss each other."
Madi Jobarteh, country representative of Westminster Foundation for Democracy, said there was a dire need for knowledge of human rights in the security services.
He said as democracy is unfolding in The Gambia, the men and women in security need to work together with people.