Gambia Community Broadcasters community Journalism training Underway
By Bakary Ceesay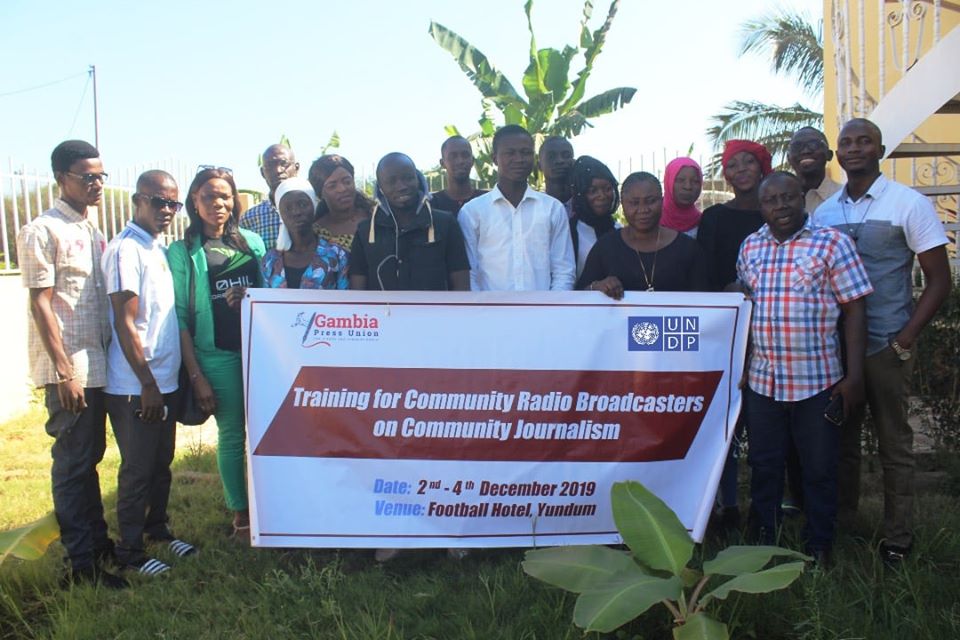 The Gambia Press Union (GPU) on Monday, 2nd December 2019, began three-day training on Community Journalism for twenty (20) journalists from community radio stations across the country.
The residential training at Football Hotel in Yundum was supported by the United Nations Development Programme (UNDP).
Speaking on the occasion, Lamin Jahateh, programme manager for GPU, said one of core aims of the Union is to promote professionalism in the Gambian media through capacity building.
The GPU's capacity building initiatives cut across all issues of journalism like reporting on women, children, human rights, elections, financial, court, and investigative journalism, among other issues.
In the execution of its capacity building initiatives, Jahateh said, the GPU is not only focused on media houses that are based in the city or urban areas.
"The community radio stations are a key constituent of the Gambia Press Union and will continue to do everything we can to give them the same professional capacity that we are giving to the urban-based media," he said.
He further explained that the three-day training for community radios was part of a series of training programmes for community radio journalists that the union has been implementing since last month, November, with the support of UNDP.
After this training, there would be a daylong national forum on community radio sustainability which will capped the project.
The trainer, Demba Kandeh who is also a journalism lecturer at the University of The Gambia, said he has been involved in a number of community radio trainings and research projects spearheaded by the Gambia Press Union.
Bakary S. Dampha, public relations officer of the Network of Community Radio Broadcasters, expressed optimism that they would learn new techniques to improve their journalism practice at their respective communities.
Meanwhile, from the 18th to 23rd November, the GPU held a training for community radio broadcasters on news translation and radio programming in local languages – Mandinka, Wollof and Pulaar (Fula).
Of the six days, Mandinka language was two days; the same for Wollof and Pulaar, and each language training was attended by fifteen (15) broadcasters from the nine community radio stations across the country.
Also supported by the UNDP, the training was held within the context of promoting community media sustainability by influencing reforms of legal framework and building the skills of community media professionals.