Gabon pens MoU with Cameroon for fiber-optics interconnection
By Amos Fofung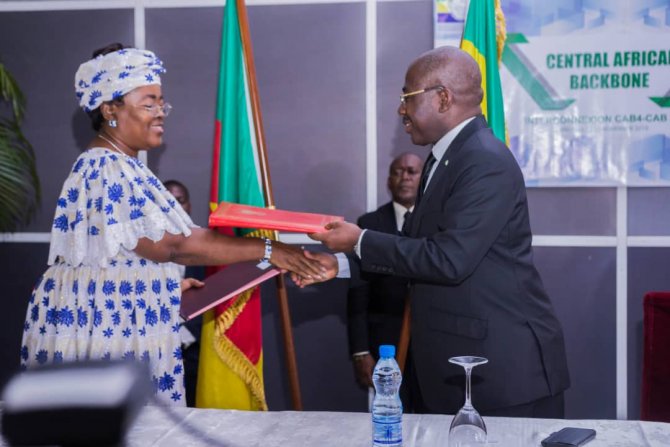 Two strong allies in the CEMAC sub-region, Gabon and Cameroon have penned a Memorandum of Understanding that puts in place a legal framework guiding the implementation fiber-optic interconnection between the two states.
The MoU was signed November 28, in Libreville, Gabon by Cameroon's Minister of Posts and Telecommunications, Minette Libom Li Likeng and the Minister of Communications and Digital Economy, Rigobert Ikambouayat Ndeka of Gabon.
Partners and promoters to the project among them, the World Bank Group, the African Development Bank and the International Telecommunications Union answered present during the penning ceremony.
The purpose of this memorandum of understanding is to establish the general and legal framework for the interconnection of the two countries' electronic communications networks and to set up a committee to implement and monitor the memorandum and subsequent agreements.
It also constitutes the materialization of the strengthening of sub-regional cooperation and the mutualization of the two signees' digital infrastructures.
Once fully operational, the "interconnection system will reduce connectivity costs since there will be direct telecommunications exchanges between the two countries with no international submarine cables required", experts hold.