Cameroon:U.S Steps Up Pressure Campaign On Biya, Urges him to engage in Swiss-led Facilitation process
By Boris Esono Nwenfor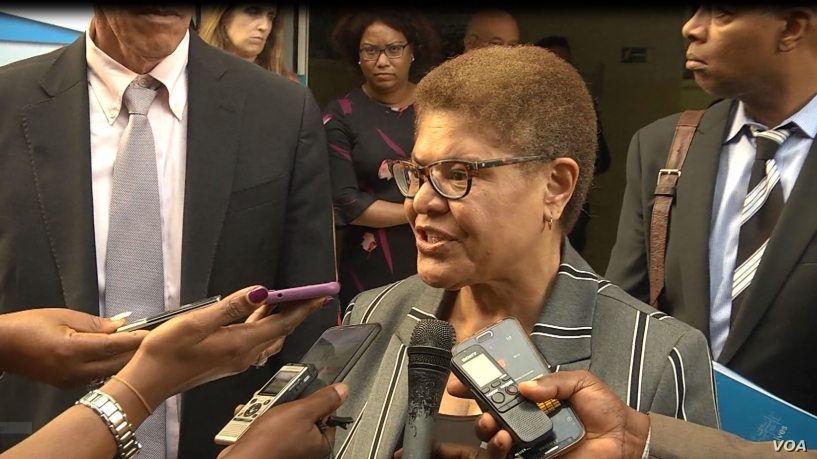 Some U.S Congress members have written to Cameroon's President Paul Biya, urging him to engage in a Swiss-led peace process to bring an end to the ongoing crisis in Cameroon's North West and South West Regions.
The letter dated December 12, 2019, was signed by nine members of the U.S Congress, such as Ranking member Christopher Smith, Congresswoman Karen Bass, Congressman Ron Kind, Congressman James Sensenbrenner Jr, Congressman David Cicillline, Congresswoman Ilhan Omar, Congressman Ron Wright, Congressman Tim Walberg, and James McGovern.
As noted in the three paged document, the conflict between security forces and non-state armed groups have led to an ever-increasing number of casualties and of internally displaced persons and refugees, and has kept hundreds of thousands of children out of school for going on a third year in a row.
The conflict has severely hurt the timber, agro-industry, cocoa, energy, telecommunications, tourism, and transport sectors. Given the failure of various internal initiatives to halt the crisis and bring peace to these regions of Cameroon, the government of Cameroon should demonstrate political will by engaging in the Swiss-led facilitation process, which could lead to future negotiations between the Cameroonian government, and the opposition in the Northwest and Southwest, as well as the diaspora.
The members added that, "A process of inclusive negotiation and institutional reforms would lead to greater power-sharing and decision-making, facilitate peace, and save Cameroonian lives. Children, particularly in rural areas of the Northwest and Southwest, need to resume their education, but that is not going to happen until there is a resolution of the conflict."
"… The conflict in the Northwest and Southwest, if left unchecked, could very well lead to a generation of unskilled and underdeveloped people who are prone to unemployment, and prone to violent extremism and criminality. A peaceful and inclusive resolution of the crisis would strengthen bilateral ties and lead to greater trade and investment between our two countries."
The members equally noted that military action cannot solve the conflict. The fault the non-state armed groups for horrific acts of violence, and also noted that the Cameroon defense and security forces have equally been involved in majority of the killings of unarmed Cameroonians, destruction of property, including the burning of homes.
"There is evidence of soldiers dragging wounded people out of hospitals and their lifeless bodies found abandoned later. Soldiers have raped women, either for opportunistic, or punitive reasons," the document read in part.
With respect to the upcoming Municipal and Legislative elections in the country sated for February 9, 2020, the members of Congress noted that if there is not a durable ceasefire in the Northwest and Southwest, February elections, let alone plans for bilingualism, decentralization, DDR, reconstruction and resumption of education are unlikely to succeed. "A process of inclusive negotiations, and a genuine commitment to establish peace is a necessary condition for all the good suggestions from the national dialogue to move forward," they noted.
"Only sincere dialogue can lead to an end to the violence and insecurity in the Northwest and Southwest, allowing people to return and rebuild their homes, children to return to school, and economic activity to resume safely."
According to the United Nations, as of November 2019, more than 2,000 people have died, as many as 71 0,000 people have been internally displaced, and 44,000 refugees have fled to neighboring Nigeria due to the ongoing conflict in the Northwest and Southwest. Roughly 2.6 million people in these areas are in urgent need of humanitarian assistance, and more than 855,000 children, the majority of whom are internally displaced, do not have access to education.
It is not the first time the US Congress has written to the President of the violence in the North West and South West Regions. In July this year, the US Congress on a visit to Cameroon called on the government to dialogue with rebels.
The ongoing crisis and human rights violations led to Cameroon being removed from the AGOA forum. US President Donald Trump said Cameron's preferential trade benefits from January 1. "I have taking this step because I have determined that the Government of Cameroon currently engages in gross violations of internationally recognized human rights, contravening the eligibility requirements of section 104 of the African Growth and Opportunity Act," Trump noted