Sierra Leone :SLBL bids Farewell to former Managing Director
By Ishmael Sallieu Koroma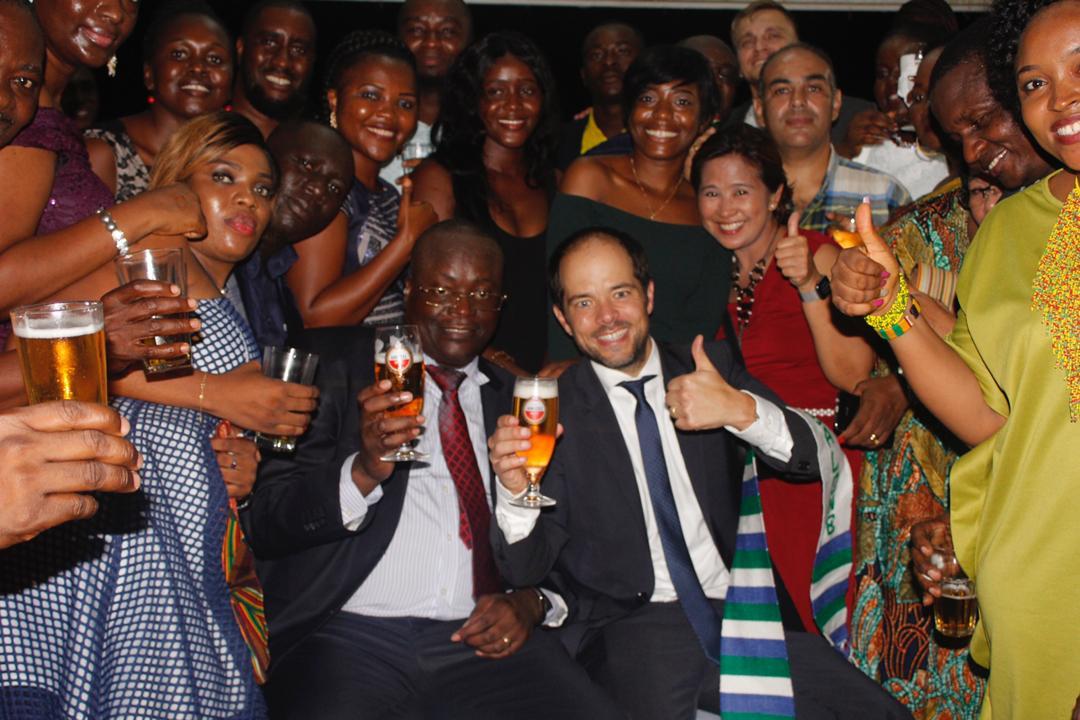 Former Managing Directorthe Sierra Leone Brewery Limited (SLBL), Daaf Van Tilburg ,has been seen off in style with well-attended farewell cocktail in his honour at the Sierra Light House in Aberdeen, Freetown
Speaking at the event, the former MD thanked everyone for their presence adding that it is very nice that he was able to have farewell together with everyone in the company adding that he grateful for the opportunity to serve them well during his three years.
"I am standing here with mixed emotions as I have got a great next career opportunity for which I am grateful. But I am also very sad to leave beautiful Salone, the nice people of Sierra Leone and all of you. I want to let you know that my family and I had a fantastic time in Sierra Leone,''he said.
He added that if he looks back, he is very proud of his three-year tenure in Sierra Leone thus thanking everyone for the great work they have done for the company during his reign .
"Let me please take you through all what has been done. As a team, we made fantastic improvements. We invested over 35 Million Euro in the brewery. As you can imagine, the implementation of such a programme, whilst running the business, is complex but our team did it very well. The brewery is now fully modernized with extended capacity. But along with the investments, we also very much invested in our people and organization which has been steadily growing in the last year. More than 95% of our employees are Sierra Leonean and it is amazing how they have developed and adopted modern state of the art technology. One example, our state-of-the-art canning line is now 100% ran by young and promising Sierra Leonean engineers and technicians. This is fantastic,''Tilburg said.
Tilburg went to say , for their consumers, they invested in their brands and that they all look refreshed and modern stating that they have also introduced innovations like STAR citron, Trenk Dark Malt Energy and Amstel International Lager beer and a full can format portfolio, the first of his kind which is very much appreciated by everyone thus the reason they invested a lot in their sales team, bars, restaurants and event sponsorships working together with their distributors to provide the best service while at the same time invested a lot of time and effort in sorghum development and our communities via different Corporate Social Responsibility projects.
"I would also like to give a special mention to the Management team of Sierra Leone Brewery but also to all the members of staff who did a tremendous job together. Thank you to my team for organising this farewell party, I wish you all well and I look forward to hearing of your continued successes,''
Laurent Bukasa, M D Designate SL Brewery Limited, in his maiden speech at the cocktail , showered huge thanks to Daaf for a great welcome and introduction stating that it was a great pleasure to have joined Sierra Leone Brewery Limited, which is part of the HEINEKEN Group.
"I consider myself fortunate to have been given this opportunity to join an organization with such a fine reputation and good will for its quality products/services/ and contribution to national development and that of communities in this beautiful country, Sierra Leone. I am indeed happy to be here in Freetown and to face a new opportunity,'' he said.
He added that the Managing Director position offers new and exciting platform to him and that he is looking forward to do the job.
"Prior to coming to Sierra Leone Brewery Limited, I have worked for HEINEKEN over 23 years. My background entailed a lot of experience in the field of Marketing and Sales. The last position I held was, Corporate Affairs Director of the HEINEKEN Brewery in DR Congo. At HEINEKEN, we are partners for growth and development in any country in which we operate,'' Bukasa explained.
Bukasa further said as a Managing Director, he promise to maintain all these links and useful engagement with stakeholders including the government of Sierra Leone, Distributors, suppliers, Chamber of Commerce, Association of Manufacturers, Employers Federation, Sorghum Farmers and Marketers Association, MCCU and all other partners adding that they will continue with their trajectory to invest on capacity and quality to meet the demands of the market.
"For our consumers, we are committed to good services at all times. I want to confirm to you that my team and I will keep an open-door policy and continue with our strategy to be a best in class in Sierra Leone. I pray for your support during my tenure with useful and positive engagement. With this, I am looking forward to having an opportunity of engaging you all,''