Sierra Leone: former President Bai Koroma to lead AU elections Observation Mission to Namibia
By Ishmael Sallieu Koroma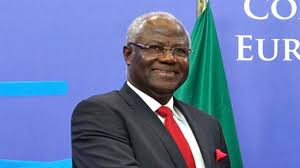 Sierra Leone's former President Ernest Bai Koroma has been requested by the African Union Commission, His Excellency Moussa Faki Mahamat to lead the African Union Elections Observation Mission (AUEOM) for the Republic of Namibia's 27th November 2019 General Elections, a press statement from the Office of the former President on Saturday has said.
According to the press statement, extending of the invitation to former President Koroma , Mr. Mahamat said the decision for President Koroma to lead the Mission was based on his "vast experience and commitment to promoting democracy and peace in the continent.''
"This AUEOM comprises 40 observers whose objective are to (a)provide an accurate and impartial reporting or assessment of the quality of 2019 General Elections in the Republic of Namibia, including the degree to which the conduct of the elections meets regional, continental and international standards for democratic elections; (b) offer recommendations for improvement of future elections based on the findings; and (c) demonstrate AU's solidarity and support Namibia's election and democratization process to ensure that the conduct of democratic, credible and peaceful elections contributes to the consolidation of democratic governance, peace and stability in the country,'' the release said.
According to the release , during this Mission, President Koroma will therefore hold consultations with the various stakeholders including government officials, members of the electoral commission, political parties, civil societies, media, members of the diplomatic corps and other international observer groups.
Ernest Bai Koroma is the immediate past President of Sierra Leone who ruled the small West African nation from 2007- 2018 after finishing his second term in office.