Senegalese Police Major, Seynabou Diouf is UN Female Police Officer of the Year
By Amos Fofung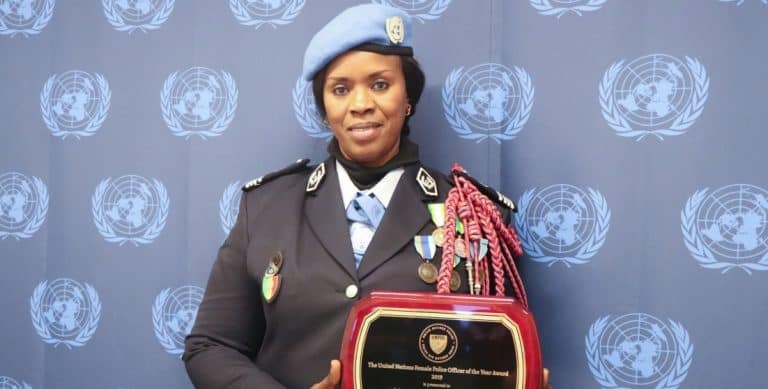 Major Seynabou Diouf, has been awarded the 2019 female police officer of the year for her "exemplary service, which has a direct and positive impact on the community and the Congolese national police."
She currently leads a task force that helps to prevent and end sexual exploitation and abuse with the UN Organization Stabilization Mission in the DRC.
Major Seynabou Diouf of the Senegal National Police was selected as the 2019 United Nations Female Police Officer of the Year after been handpick from a competitive list of 30.
She is set to receive her award during the 14th United Nations Police Week after an outstanding career serving with the United Nations-African Union Mission in Darfur (UNAMID) and the United Nations Multidimensional Integrated Stabilization Mission in Mali (MINUSMA.
At the national level, her experience spans 33 years with the Senegal National Police which also happens to be the largest contributor of police to UN peace operations and is among the top five contributors of female police officers.
An inspiration to dozens across Africa, Diouf became the first female police officer in her country to be honored as a 'Gardien de la Paix' or 'Guardian of peace' an accolade previously reserved for male officers.
Established in 2011, the United Nations Female Police Officer of the Year award seeks to recognize exceptional contributions of female police officers to UN peacekeeping and to promote the empowerment of women.
Previous recipients have been; Ghanaian police officer Phyllis Osei (2018), Assistant Inspector of Police Annah Chota from Zimbabwe (2017) and Police Superintendent Yvette Boni Zombre from Burkina Faso (2016).