Political unrest forces electoral body to postpone by-elections in Malawi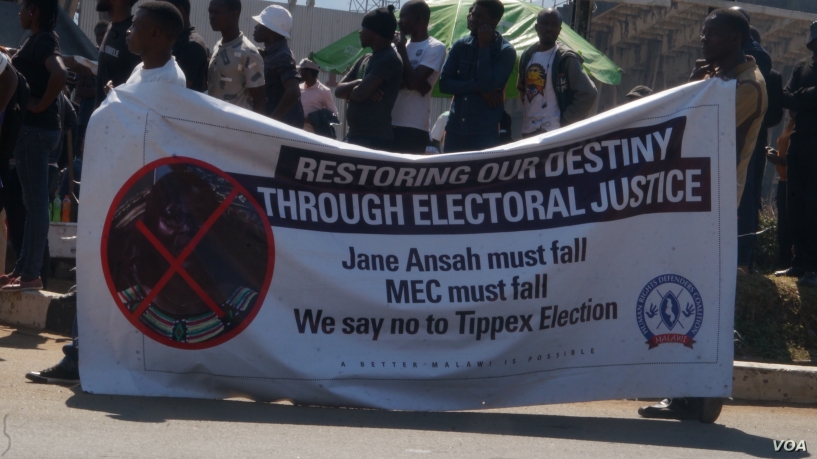 By James Mwala
The continued post elections impasse has forced the Malawi Electoral Commission to postpone a parliamentary by-election which was slated for early this month in the capital Lilongwe.
The elections were due to take place in Lilongwe South Constituency on 5th November following the death of one of the contestants – Agnes Penumulungu ahead of the elections in May.
But the Malawi electoral Commission has said that it has moved to postpone the elections due to the alarming situation and a state of affairs in the city and the nation.
There are continued protests against the authenticity of the elections which saw the Democratic Progressive Party claim victory.
The two opposition parties, MCP and UTM are currently in court seeking the nullification of the presidential poll while the civil society are demanding the heads of the MEC leadership over what they christen as incompetency in management of the elections.
But in a statam3ent, the commission says it had reached to postpone the elections after a heightened consultation process.
'' Since the launch of the official campaign period on October 19, 2019 the Commission has been monitoring the environment in Lilongwe South Constituency and also Matenje Ward in Kasungu. So far, the Commission has not received or witnessed any act of violence in Matenje Ward and all the voter mobilization activities and meetings have been running without interference.'' reads the statement.
It adds: ''However, the Commission has received a complaint regarding the volatile situation in Lilongwe South. The Commission and staff have also been victims. On October 25, 2019 one of the MEC Commissioners was blocked and stoned while on a Campaign monitoring exercise. Secretariat staff who were putting up posters 2 were also stopped and verbally intimidated. The intimidation was intense that the Commission was forced to postpone all public voter mobilization meetings and activities that it had planned in the constituency.''
The commission has also said that the move is to safeguard life and property of the people in the constituency and also MEC.
Meanwhile, the Commission will engage with the leadership of contesting candidates and be monitoring the situation on the ground. 3 Once the situation improves, the Commission will announce a new date for the polling.