I have no desire to travel to US, ex-Kenyan Attorney General says
By Samuel Ouma |@journalist_27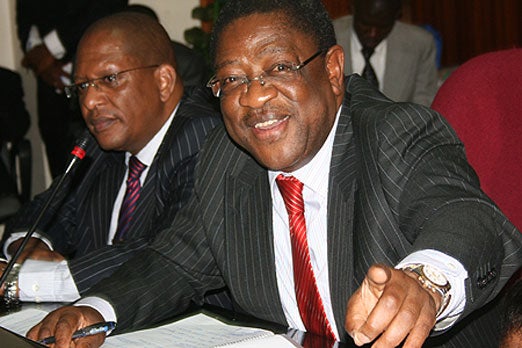 Former Kenyan Attorney General (AG) Amos Wako laughed off a travel ban issued by the United States of America government against him and his family over an alleged involvement in corruption and failure to prosecute graft cases during his tenure.
Addressing the journalists on Wednesday, Mr. Wako refuted the graft allegations asking the US to provide evidence which prompted her to take such an action.
"I was baffled and perplexed when out of the blue, without any notification whatsoever or being given the fundamental right of being heard on any allegations against me, "reiterated Mr. Wako.
On Monday, November 18 US Secretary of State Michael Pompeo announced that the current Senator, his wife Flora Ngaira and Son Julius Wako are barred from entering and doing business with US over involvement in "significant' corruption.
He lashed out at Pompeo for dragging his family into the issue they know nothing about.
"My family was not involved at all when I was discharging my functions as the Attorney-General. Even if I committed the sin of corruption, which I emphatically deny, it would be my personal responsibility. My wife and son, and indeed all members of my family, should not be punished for my sins. The mention of my wife and son was in bad taste," he noted.
Wako first got banned from traveling to US in 2009 after the country claimed that he had involved in corrupt deals that interfered with her interests. He through his lawyer asked for proof from US government but it took her more than 6 months to respond.
The former chief legal adviser has claimed the issue has been revived by members with 'interest'.
"This is an old story being resuscitated for reasons best known to them. Instead of dealing with developments since the travel ban 10 years ago, one wonders why a travel ban should be issued when there is already one in place, based on the same reasons," he said.
Wako served as Attorney General for 20 years.