EU's Tim Olkonnen pledges support to Zimbabwe
By Nevson Mpofu Munhumutapa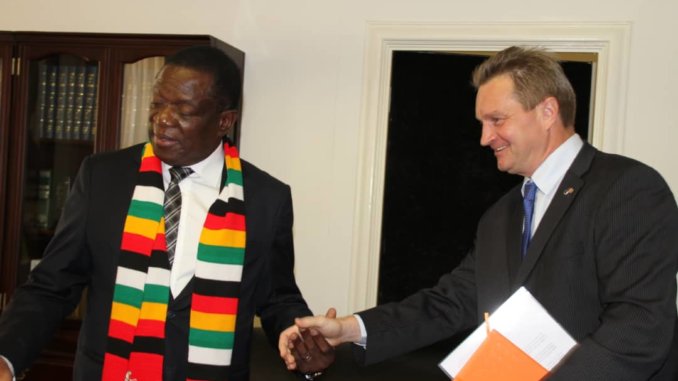 Zimbabwe -EU Political Dialogue Meeting that took place on 21 November brought together Zimbabwe and EU Family to cement on thorny issues of economic and political nature common to the country's situation.
The meeting's political objective centred on restoration of Human Rights, rule of Law and Democracy. On the other hand EU is pushing for Zimbabwe to look at economic, political, legislative and electoral reforms.
Tim Olkonnen and the EU Heads of Mission seem to ponder much on the further deterioration of Zimbabwe's human rights situation, rule of law and lack of proper lines of Democracy. This has been EU's song to Zimbabwe.
'' The new Government must Observe and respect the Rights of the People, Democracy, rule of Law and end corruption '' –Tim Olkonnen , EU HEAD of Delegation to Zimbabwe .
The meeting dubbed Zimbabwe EU Political Dialogue engaged the two sides to focus as well on Economic Development, Trade, Investments, Human Rights, Democracy, rule of law, Climate Change and on Global and Regional matters.
July Moyo Acting Minister of Foreign Affairs and International Trade who co-chaired the meeting said Zimbabwe is working on electoral reforms, economic reforms. He further elucidated that failure to implement Reforms was due to lack of funding of which EU immediately promised help.
''Zimbabwe is working political, economic, electoral and legislative reforms to be pushed to success. We want to observe human rights, rule of law, democracy and respect wishes of the people. The challenge if financial. We are failing to fund implementation these programs in communities.
''Zimbabwe's President ED Mnangagwa has even called for political actors dialogue a sign which shows political commitment. We want to unite at all angles where there is lack of unity for our development .Our challenge is just funding.''
Although all sources from the EU Family could not be contacted at the time of going to Press by Saturday, the truth according to a Press Statement from EU and investigations with Government sources close to the proceedings, the Government of Zimbabwe is being sandwiched for transparency and accountability for EU to respond to concerns at hand, do funding and help in any -way.
A source close to the Government said EU is just looking for transparency, accountability, observation of Democracy, Rule of Law and Human Rights and ending corruption. EU has in heart interests of the people. The problem is Zimbabwe is failing on these areas.
''It is true I agree. The problem is EU is looking for un- seen transparency and accountability in terms of fulfilling agreements made. Zimbabwe is actually failing to satisfy EU with whatever is of interest of the people. EU is just looking for observation of rule of law, democracy and human rights.
''EU is not a problem but now Zimbabwe is failing to make it. There are several abuses in terms of human rights since the beginning of mid this year. A few days ago imagine police ran amok in Harare beating, people, this is what EU is against '', says a closed source.
Despite any political loopholes existing in faults of Zimbabwe's side, EU has promised to give $11 million to alleviate food in-security in the country. It will give another additional $60 million for Agriculture. The open meeting was attended by Permanent Secretaries from Zimbabwe's Ministries and some top Government officials. Heads of Mission headed by Tim Olkonnen were from Germany, Finland, France, Portugal, Netherlands, Italy, Spain, Sweden and Czech Repub