DFC CEO Adam Boehler to Travel to Egypt
Visit will promote private sector investment and strengthen regional relationships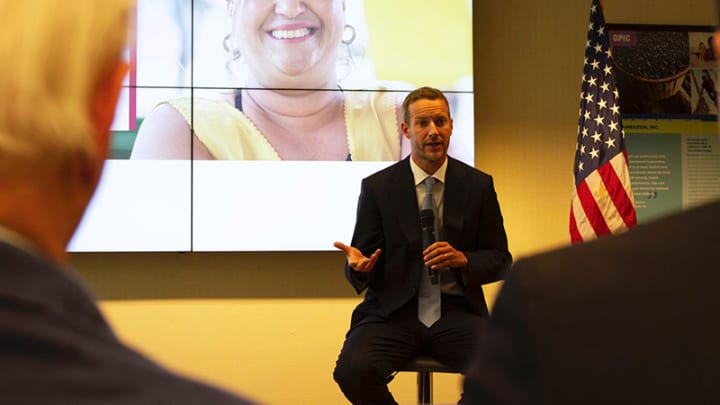 WASHINGTON – Adam Boehler, Chief Executive Officer of the U.S. International Development Finance Corporation (DFC), will travel to Egypt November 21 – 23 to promote U.S. investment, attend the Investment for Africa Forum, and strengthen regional relationships in pursuit of shared development goals in the region.
"Africa is home to immense untapped opportunity that will yield a more prosperous, stable, and secure future for communities across the continent," said Boehler. "I look forward to joining regional government officials, business leaders, and investors in Egypt to identify avenues through which we can collaborate to achieve our shared vision for Africa."
While in Egypt, Boehler will attend the Investment for Africa Forum in Cairo to underscore DFC's commitment to the continent and will meet with regional business leaders to explore investment opportunities in priority areas such as infrastructure development and women's economic empowerment. He will also seek to advance key agency initiatives, including Connect Africa, 2X Africa, and DFC's new collaboration with the African Development Bank, all of which advance the goals of the Administration's Prosper Africa effort to increase two-way investment and trade between the U.S. and Africa.
In addition, Boehler will hold meetings with high-ranking government officials to enhance cooperation in support of regional development, economic growth, and stability. DFC currently has more than $1.5 billion invested in Egypt in sectors ranging from infrastructure to financial services and healthcare.
The visit follows recent travel by Boehler to the Indo-Pacific, Latin America, and Sub-Saharan Africa to strengthen relationships with key partners and highlight DFC's enhanced flexibility to support private sector investment in critical regions.
DFC is a new U.S. Government agency that combines and modernizes the Overseas Private Investment Corporation (OPIC) and USAID's Development Credit Authority (DCA). With a more than doubled investment cap of $60 billion and new financial tools, DFC is equipped to more effectively mobilize private sector capital to urgent development challenges and advance U.S. foreign policy. The agency continues to work with Congress to fund DFC through the appropriations process in order to exercise its new investment and development tools.
The U.S. International Development Finance Corporation (DFC) is America's development bank. DFC partners with the private sector to finance solutions to the most critical challenges facing the developing world today. Working together with businesses, we invest in projects that create jobs and opportunity in emerging markets, including building critical infrastructure, expanding access to telecommunications, and providing small business financing, notably for women entrepreneurs. DFC helps to advance America's foreign policy by partnering on projects that create economic stability, protect sovereignty, and ensure transparency. DFC investments adhere to high principles and respect the environment, human rights, and worker rights.
*Source DFC