Cameroon: From Biya , A Mea Culpa on the Anglophone Crisis In Paris
By Amos Fofung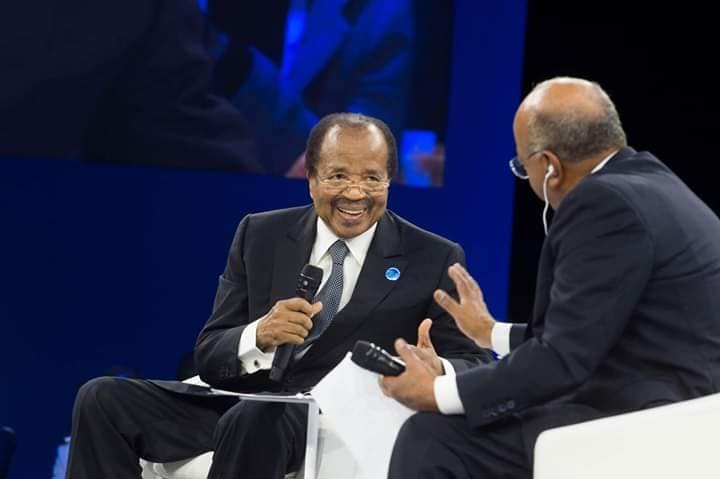 Cameroon's octogenarian president, Paul Biya has admitted trying to assimilate former British Southern Cameroons into the majority Francophone system, formerly East Cameroon.
Speaking Tuesday November 12, at the Second Paris Peace Summit in France, the 86-year-old who has ruled Cameroon for thirty-seven years now confirmed that they did attempt to assimilate the English-speaking regions, thus harmonizing it with the French part of the country.
Their efforts he added failed to yield any fruits.
"We tried assimilating their system into the majority francophone system but because of identity differences, it failed," he said while responding to questions from Mohammed "Mo" Ibrahim, a Sudanese-British billionaire who moderated a panel discussion he was in.
Biya's 'confession' was received with mixed feelings by denizens in his crisis turn country, which has for years now been plagued with civil protest and calls for secession.
One of the points advanced for separation been the assimilation and elimination of the Anglo-Saxon culture.
Since then, his remark has been making rounds on social media sites prompting responses from across the political strata.
To separatist advocates and sympathizers, it is clear prove and validation to their cause, more reason why they need to leave the union.
Paul Biya was sitting on the same panel as Louise Mushikiwabo, Secretary-General of La Francophonie, Mohan Kumar, chairman of the Research and Information system for Developing Countries, Hor Nambong, Deputy Prime Minister of Cambodia, and Hossam Zaki, Deputy Secretary-General of the League of Arab States.
Though a president of a bilingual country for 37-years now, Paul Biya elected to have the question addressed to him translated to the dismay of his supporters.
Quizzed by Mo Ibrahim on the situation in the English-speaking regions of Cameroon, President Paul Biya first elected to go memory lane, detailing the genesis of the crisis, back to colonial times, thus giving the audience a broad-base understanding on how things got to the current level.
To him, the division of "his country" to colonial masters brought about all these problems and during postcolonial times, the possibility to reunite came forth and they attempted to integrate the English-speaking part with the majority French-speaking regions.
After falling due to what he describes as differences in identity, he announced that the Yaounde administration was putting in place a special status program for the English-speaking regions within the greater Republic of Cameroon.  
It is the second time within the last couple of months that President Biya is attending an international event in France. He has not visited the North West or South West regions since the crisis started and the statement on the special status is the first time he is making statement on the recommendations of the National dialogue .