Zimbabwe: A Focus on sustainable economic growth and development for new UN Coordinator
By Nevson Mpofu Munhumutapa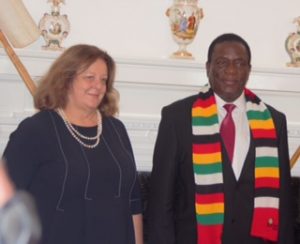 Maria Ribeiro, the new United Nations Country Co-Ordinator presented her credentials to President Emmerson Mnangagwa in Harare yesterday, 30 October. In her words Maria called all the Zimbabweans, development partners and UN Families in Zimbabwe to work together towards Sustainable Human, Economic Growth and development.
Speaking at the glamorous occasion, Ms Maria pledged for more human development financial support to go towards poverty eradication and elimination by 2030. She emphasised that economic growth and development is linked to Human development under which there is need to lift up the general public addressing absolute poverty in the country.
''We have been very active in working towards humanitarian development, but what we look close to is economic growth and development. This is closely related to human development .She thanked the UN for the past work of development which has been done.
''Economic Growth and Development is a result of the success of Human Development. This has gone well as a success story in the country. Let us now work towards economic growth. This is what UN is to look at now.
''The country has received 51% development partners multi-lateral Aid worth US 240 million under the Revised Humanitarian Appeal. On the other hand UN contributes U$400 million annually. This is for sustainable Humanitarian development. This is part of our National development Plan 2021 to 2025''.
UN has made strides of success under ZUNDAF, Zimbabwe Unite Nations development Assistance Framework. It gives special attention on HIV and AIDS, Gender equality, Nutrition, Governance and Poverty Reduction.